Creative Arts Book of the Week: Special Guest Reviewer: Cat Askew
French Art Deco
, Jared Goss, London: Thames and Hudson, 2014.
I was invited by Greta to select a book of my choice (from Creative & Cultural Industries) and as I'm about to pick a topic for my Dissertation I thought I should choose a book about a potential area of interest: Art Deco. I struck upon French Art Deco by Jared Goss because it had lots of fabulous pictures. After flicking through the book, I've now realised the collection is mostly decorative arts, (furniture, wallpaper, tableware) so not totally appropriate for an Art History dissertation. But I shall carry on regardless as there are some stunning examples of French Art Deco furnishings.
At first the limited chapters may seem alarming for nearly three hundred large pages. Chapter 1. French Art Deco: An Overview. Chapter 2. French Art Deco in The Metropolitan Museum of Art. Then a full bellied catalogue onwards. At the back of the book are extensive notes on further sources. Even better on the very last pages of the book are 'Marks, Provenances and References' which is fascinating. Such as items 35b and 35c (Cigarette cases by Pierre Legrain – 1925) we can see were both owned by Mrs Germain Seligman until 1975 when they were gifted to the Met's collection.
Chapters are sub categorised into different sections which breaks up the first overview into less intimidating segments. There are Origins, Early Expressions, The First World War, The Exposition Internationale, The French Art Deco Style, Paris in the 1920s and 1930s, French Art Deco Abroad, The Final Years and Rediscovery. Chapter 2, a brief double page focusing on French Art Deco in The Metropolitan Museum of Art, is particularly useful if one is researching origins of collections of museums – gifting, purchasing, looting (!) etc.
The hefty catalogue takes up most of the space in the book and is a brilliant source for specific details on all the works in the collection. In my experience it can be rare to find comprehensive data on an individual artwork/object, so if looking for information on 'Dress Ornament with Chinese Motif'(1923) by Georges Fouquet, for example, one would not be disappointed.
A page is dedicated to the brooch. A quote at the top, from Georges Fouquet's son, Jean, perfectly summarises the impact of the Chinese inspired brooch and typical fashions of jewellery during the height of French Art Deco: "A Bijou [jewel] must above all ornament a dress. In order to fill this function – I will repeat this endlessly – the Bijou must be composed of masses legible from a distance. What is diminutive is odious." Goss describes the materials, (jade beads, onyx and enamel embellished with diamonds set in platinum) and how the piece moulds with Georges Fouquet's oeuvre of the 1920s when he made a number of mask-inspired jewels of both Asian and African inspiration. The photograph is excellent quality, as are all in the book, and always so important when discussing something whose impact is best experienced visually.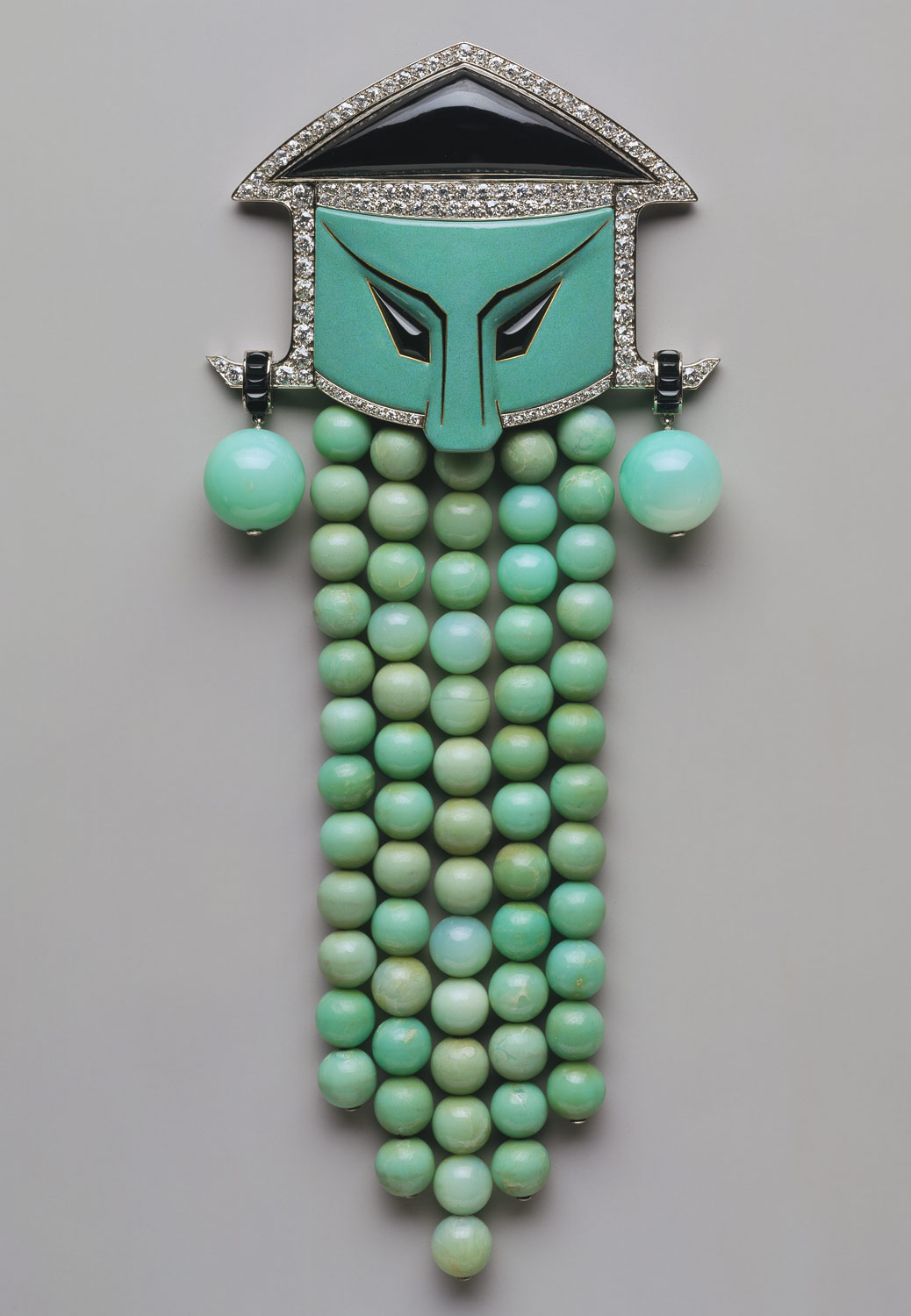 There are 70 pieces in the collection that are chronicled by Jared Goss in French Art Deco. I set myself the challenge of choosing a favourite which after careful consideration is number 69, a Vanity Case attributed to Alfred Langois for Van Cleef & Arpels. Goss describes the history of the firm and includes part of a newspaper article published in 1923 about the firm's role in style. Another paragraph explains the function and contents of a vanity case of the time (helpful as at first I thought it must be some kind of equivalent to today's make up bag or compact mirror – but it actually has a combination of powder and rouge compartments, a lipstick, a comb, a mirror, a cigarette case with a lighter or match holder, and a clock. It sounds brilliant). Goss narrates the vanity case as "flashy and exotic" (just my taste) with a "jade panel set into the cover carved with a flowering fruit-tree motif that evokes both traditional Chinese jades and Persian miniature paintings…" Best of all, a hinged lipstick springs up when the case is opened. The only thing Goss doesn't mention is why on earth the vanity case went out of fashion?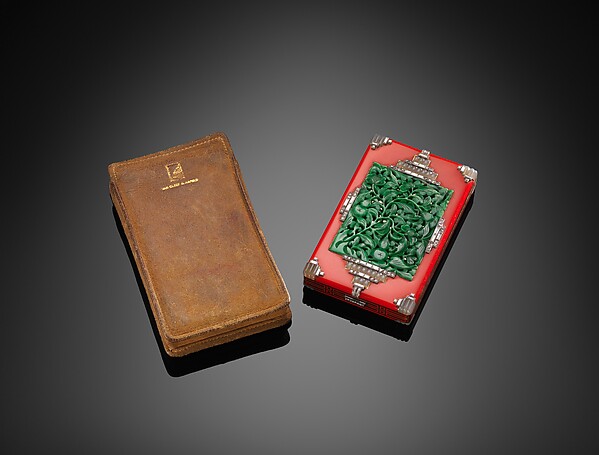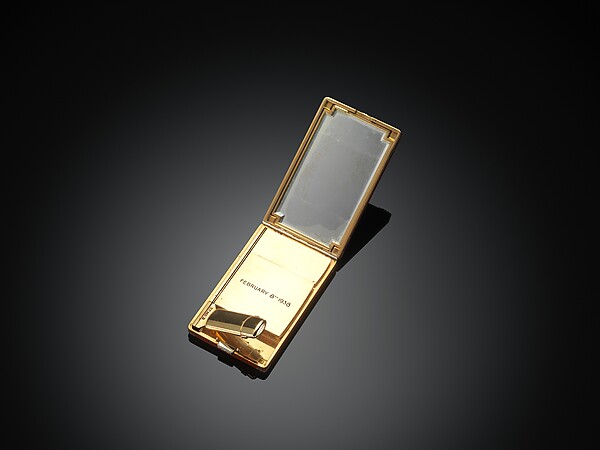 The most unusual item in the book, for me, would have to be Type 4 Lamp (1926-27), item 33, by Jaques le Chavallier and Rene Koechlin. As with all the articles in the book, Jared Goss gives a solid background of the designers, noting that Le Chevallier was responsible for the visual aesthetic of the lamps and Koechlin for the technical aspects. The lamp is beautifully odd, the bulb artfully obscured by intersecting aluminium discs, which look as if they've sprung out in reflections from the hoop base. Goss describes with passionate interest: "the lamp, while functional and machine-like in appearance, also reveals a lyrical, even mysterious quality, the silvery light reflected on its ever-changing arrangement of surfaces suggesting the segmented shapes of the moon it is various phases. In this evocation, the lamp becomes a visual metaphor for nighttime light, both natural and artificial, as a source of illumination. The lamp also presents a virtual essay on Cubist design: the deconstruction of the sphere into a series of angular planes heightens the perception of its round volume."
If this book prompts further investigation into Art Deco, French or not, and you don't have a visit planned to The Metropolitan Museum of Art, Portsmouth does have some gems. A local connection to Art Deco would at first thought be through buildings. The old Odeon cinema in North End had a dominating Art Deco era tower (opening in 1936). I've been working on making artwork based around local landmarks, so a great graphic print of the Odeon as it was caught my attention in a shop window along Albert Road. The tower still remains although is now perched obscurely on top of a Sainsbury's Local.
To conclude…
I don't know if it's good practice when writing a book review to observe other reviews about the same volume, but I was flummoxed by one customer on Amazon who announced the book as "Just a nice coffee table book no more no less". what a waste? Perhaps just to put it on your coffee table where it may be kicked out of the way to make room for the four TV remotes and the odd cup of tea.
Small negative of the book: heavy, and blurred image of close up of medal on underside of a table frame, blurred, like gcse homework.
During my work experience I have learned it helps to have a solid interest in the background of the faculty you are working with and its books. Having done this book review I would happily recommend it to any student interested in French decorative arts from the Deco period.
Images of the items are courtesy of The Metropolitan Museum of Art (www.metmuseum.org). Click on the images above to see a larger version on the source page.