Ken Norrish Architecture Collection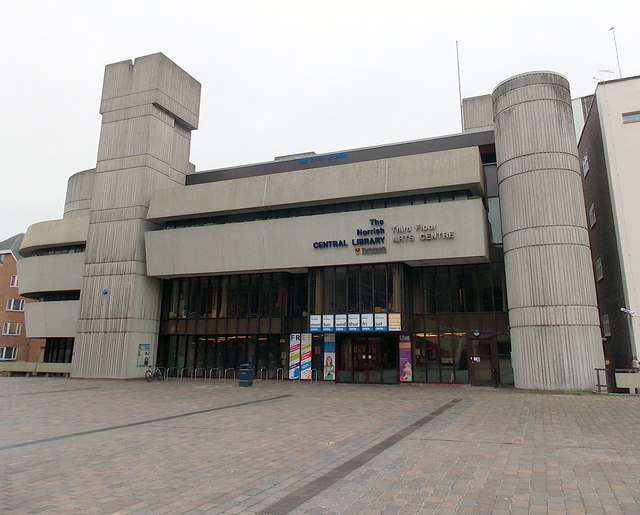 I've just got back from exploring the Ken Norrish Architecture Collection at the Portsmouth History Centre in the Central Library. An eclectic mix of books, which the book plates inside explain were donated by his wife Georgette Norrish, "To inspire architects." Given its location, I imagined a collection of books relating to local architecture, but this isn't the case. However, it all becomes clear when you know that Ken Norrish headed up Portsmouth City Architect's Department who designed the Central Library building. Opened in 1976, its Brutalist form contrasts with other buildings nearby including the neo-classical style of the Guildhall. For me, the most interesting view of the building is around the corner; you can just see the start of its wonderful curves to the left of this picture.
Anyway back to the books. The Ken Norrish Architecture Collection includes items relating to the history of art and architecture, monographs including 11 out of the 12 volumes of Frank Lloyd Wright Monographs, 3 volumes of Architecture of Sir Edwin Lutyens, by A.S.G. Butler, which we have in stock, in the Large Book collection in area 2B.
The Local History Centre has other collections which may be of interest too. You can discover local plans and information about buildings in Hampshire, alongside maps, local directories and books on local history. There is also an amazing naval history collection and the specialist Arthur Conan Doyle Collection. I also managed to catch the exhibition University of Portsmouth: Our History, which runs until the end of the month.