Fashion Museum, Bath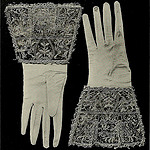 Took advantage of a work trip to Bath to visit the Fashion Museum. The current exhibition, Georgians: Dress for Polite Society, is fabulous including sumptuous dresses and beautifully embellished gowns and even coats for men.  It was interesting to see how modern some of the dresses looked, particularly towards the end of the period, almost looking forward to the 1920s. The most unusual dresses had to be the court mantua, some of which were nearly 2 metres wide!
My favourite collection of exhibits was of 17th century gloves which are beautifully preserved, possibly because they were only worn on special occasions such as for portrait sitting. They are beautifully crafted from different types of leather and exquisitely embroidered with coloured silk threads, gold and silver and tiny seed pearls.  I loved the golden fringing on some of the examples.  You can find further examples by searching Artstor database or the V&A Collections online.
Photo by Internet Archive Book Images