Explore our Near and far World Books collection this Summer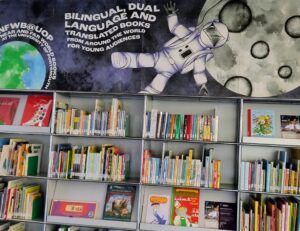 This Summer we have highlighted children's books found in our Near and Far World Books collection (NFWB@UoP); which are translated from French to English, or are French language books, or bilingual books. Come in and borrow classics such as Tintin by Hergé and Asterix and the Picts by Jean-Yves Ferri or, explore something new such as the Stig and Tilde series by Max de Radigues.  You will have many beautifully illustrated books to choose from as the French language section is very extensive and the age range reading levels are from pre-school to teen. We have stories from all around the world so come in and explore the collection.
Special thanks goes to Erin our school work experience student who helped with our French books display, and to the talented Megan and Soo our M.A. Illustration students who have designed our fantastic new promotional banners for the collection. They look amazing!
(NFWB@UoP) is a growing collection of bilingual, translated and non-English langua
ge children's books. It incorporates the prestigious collection, Outside In World Children's Books in Translation, which are books that have been translated from their original language into English. The collections are situated near the Library Café, on the ground floor, for easy access for all our visitors. We actively encourage the collections to be used to support research and teaching at the University of Portsmouth and in the wider academic world, and for community outreach work. If you are not a member of the University and would like to visit and borrow from the collection, please see our Library Membership webpages.