'Sketchnote Day' – did this pass you by?
There are so many so-called special days now in our calendar (from Winnie the Pooh Day to National Answer your Cat's Question Day – really?), you might be forgiven having missed this one. 11.1 or 11th of January is World Sketchnote Day. Why the 11 January? Apparently, the date looks like three pens or pencils which will make more sense later on.

I have been looking into sketchnoting for a while now trying to get inspirations for my own work. I can clearly say I do not have a single artistic bone in my body. But this is exactly why I should and will do this. Here are some pointers by the World Sketchnote Day (WSND) organisers.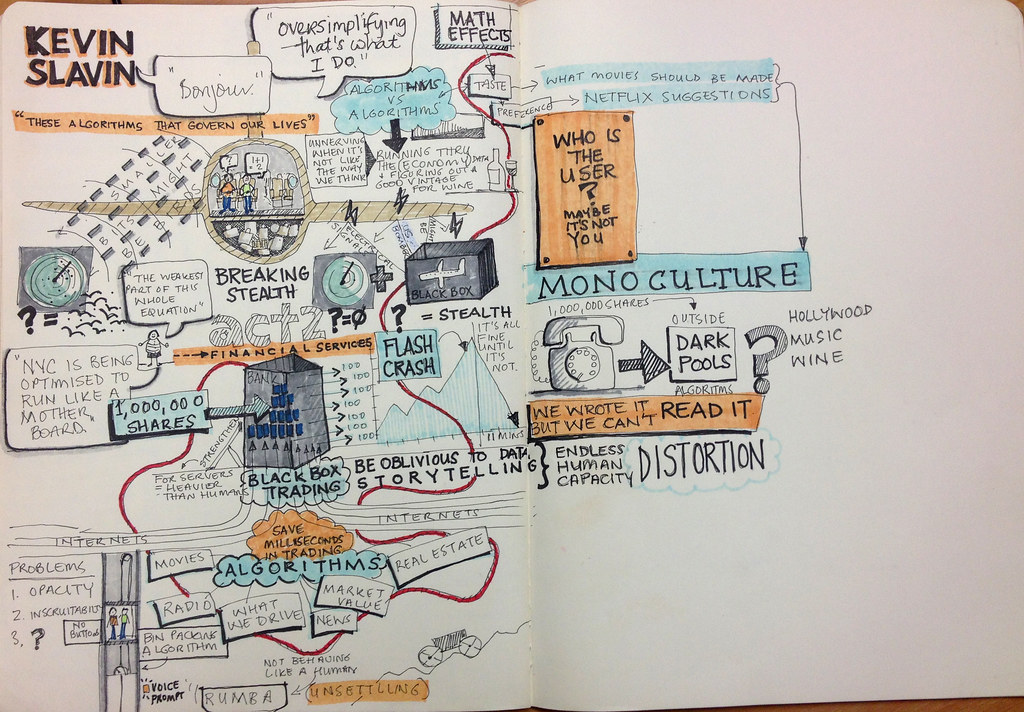 1. Help I cannot draw!
You do not need any arty background to attempt this. You will be learning to simply draw sketches that make sense to you and only you and adapt them to your needs. Take a look at the guide from the Sketchnote Army website.
2. You can learn to sketch out objects and ideas, as well as concepts
With practice you will enhance your note-taking and deepen your comprehension. Why? Get away from linear note which you will not remember much later. It is scientifically proven that a combination of visuals AND text are best for this.
3. Perfect outlet for ideas
Text, especially when dense, does not lend itself for easy digestion, let alone immediate comprehension. Introduce some sketches, pictograms, pictures (drawn by you) and hey presto, it gets easier, much easier to remember the content. If you have drawn something yourself, created your own, then it will stick with you. One simply remembers pictures better than pure text. Even texts with bullet points. Even if you consider yourself a text-based dude or dudette. With the constant flood of information coming our way, meaningful visuals definitely make information easier to digest. Long live infographics! But you will not need to be the visual expert or graphic designer, you simply draw your own interpretation of that thing, concept, process, etc. Make it yours.
4. Sketchnotes are a type of note taking
Sketchnoting – visual notetaking – has a very long history if we go back to cave drawings or historical notes taken by the Greeks. It combines text, shapes, doodles or drawings, symbols, etc. to take notes and make them memorable. It is a step away from a simple mindmap in the way it is organised. You actively interpret information coming at you into what you are putting down on paper (visually and emotionally), adding layers of meaning.
5. Based on association
Tap into the power of your visual brain – taking visual and written notes together helps to create associations between the two sides of your brain and stimulates and engages your learning. Ears and eyes are used while listening is highly focussed; at the same time eye-hand coordination is of essence. If you have grown in competence doing this by hand you might then dive deeper, develop your own style and/or move on from analogue to digital using one of the many apps available.
You will be learning to do something like this: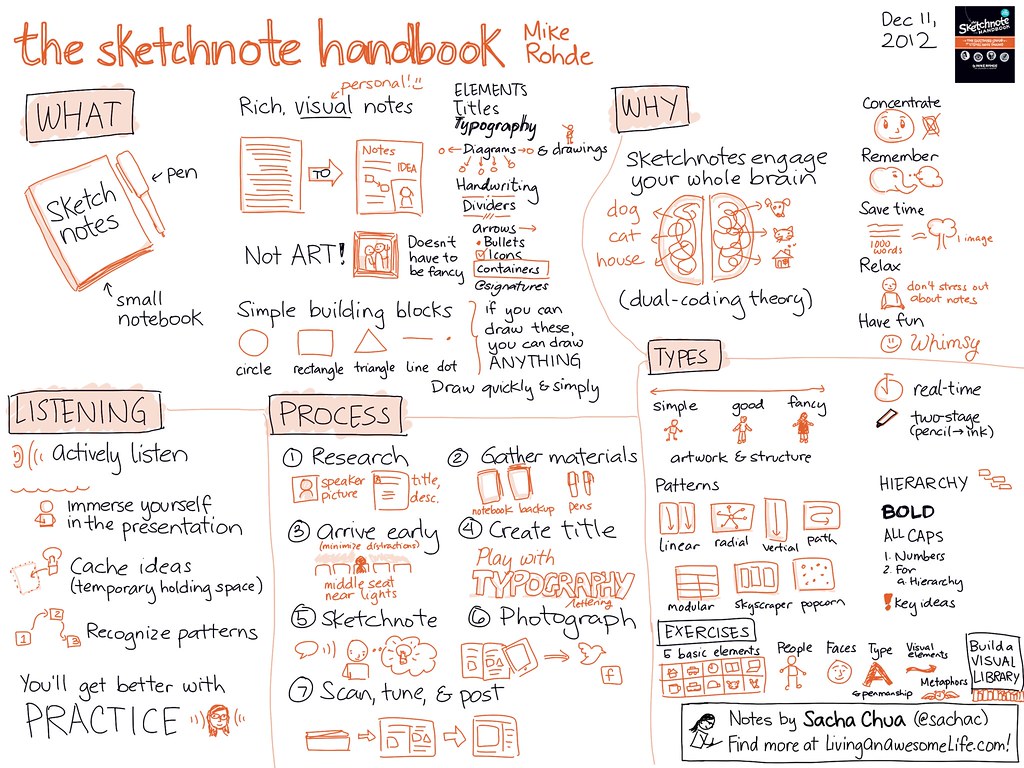 For a glimpse of the bigger picture, watch this YouTube video.
History and inspiration of the Sketchnote Day
The earliest reference of sketchnoting, that is visuals (= sketch) + text (= notes) goes back to an American designer called Mike Rohde. In 2007, he decided to experiment with a new approach while taking notes at a conference. This was first of all to enhance his comprehension and cut down on copious linear notes. He started experimenting with a small pocket-sized notebook. Mike began listening and capturing the big ideas he was hearing, seeing, and thinking about into lettering and drawing. Thus, the movement of sketching + noting was born. It soon gained a sizeable following. People like Sunni Brown, Emily Mills Doug Neill, and Wendi Pillars soon followed in his footsteps and published books, or offered courses on this growing interest topic. Watch one of Mike Rohde's videos on YouTube.
The message is – get your three pencils out (1/11), find your own materials, listen carefully, et voilà. I'm off doing an online course on sketchnoting now. Watch this space: I will report back on my 'creative' progress.
Free online courses on sketchnoting
You too can learn the basics of sketchnoting for with free online courses from websites such as the Sketchnote Academy. There is even a short video on using sketchnotes in business on LinkedIn Learning. Watch the web for a burst of content in the lead up to the next 11 January!