Rediscovering the "Pompey Messiah"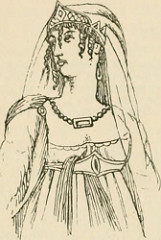 It was certainly one of those WOW moments: when he found something wonderful he wasn't really expecting. "I was in Portsmouth Central Library", principal lecturer Dr. George Burrows tells me, "trying to find something historic about music and Portsmouth I didn't know about." He had looked through newspaper microfiche and found nothing significant. So he moved to an innocuous looking filing cabinet where he found a manila envelope marked with the words '1812 wordbook'. Inside he found a book containing the words of Handel's Messiah. In the margins there were hand-written notes by a member of the audience recording details of a previously unknown concert held in Portsmouth. The name 'Catalani' caught his eye.
That was over three years ago and now George is finally fulfilling his dream of re-creating Portsmouth's very own version of Handel's Messiah performed here in 1812.
George's enthusiasm is infectious as he regales the fascinating story of how the Italian operatic superstar had been performing in Paris when Napoleon took a shine to her. She had already signed a contract to work in London but Napoleon tried to prevent her from leaving France by confiscating her passport. This must have been an awkward moment as France and Britain had been at war for nearly 20 years. So she escaped, disguised as a nun at the dead of night across the English Channel, to start a new life in London. She stayed in England for seven years with her French husband until eventually returning to Europe.
She took England by storm. When she arrived in 1806 at the age of 27 she was already a 'prima donna'. She was top of her game and someone who loved to show off and court controversy. She was particularly fond of delivering elaborate embellishments; her vocal range covered three octaves. Respect for tradition was not her strong point either. The 1812 wordbook gave a flavour of major performance changes. Not only did Madame Catalani insist on singing the opening recitative normally performed by a tenor soloist, she appropriated other solos. She also refused to be upstaged by King George III when the audience stood during the Hallelujah chorus as there was reference to an unconnected aria being performed directly afterwards.
Opinions were mixed. Some critics saw her as a 'corrupting foreign influence' whilst the Hampshire Telegraph described her as 'a constellation of vocal excellence'.
There were more revelations for George as he discovered that part of his Pompey Messiah had been re-orchestrated by Mozart. And therein lies George's challenge as he seeks to recreate a unique performance combining it with an element of surprise for an audience of the 21st century.
George's research has shown that Portsmouth was developing as a major hub for musical events with regular benefit concerts raising money for local charities. After Handel's death in 1759 there were many commemorative concerts held in his name. A Portsmouth musical festival was established some years earlier which proved popular especially when Catalani's billing in the Messiah attracted record numbers of people. George discovered it was also a time when local amateur choirs were springing up and developing cultural and musical activities that are still very much in evidence today.
George emphasises how important it is to keep to the original spirit of the programme. This is why the profits of his concert are being donated to local charities; a sentiment shared by Madame Catalani. At the end of her life in 1849 her voice had raised an estimated 2 million francs for charitable foundations.
The Pompey Messiah will take place at 7:30 pm on Saturday 18th March in St Mary's Church, Portsea. Unlike the original concert which consisted of a much smaller group this will bring together 200 performers from around Portsmouth; including the University of Portsmouth Choir where George is director, the Solent Symphony Orchestra, Portsmouth Anglican Cathedral Choir, St Mary's Church Choir and soloists from the Royal College of Music. Regular price tickets cost £17, concessions £15 and £8 for under 16s. Available from http://onlinestore.port.ac.uk/product-catalogue/music or at the door. Early bird prices are currently available if you purchase online.
If you are interested in finding out about George's research there is a free exhibition you can visit either at Portsmouth's Guildhall or at St Mary's Church, Portsea.
Lizzie Wildgoose
Photo by Internet Archive Book Images