Who's afraid of the big, bad… picture?
At the far end of the first floor, in the newest part of the building, there's a print of a painting. It's quite large, and for the last few years I've avoided walking anywhere near it.
Maybe I should explain.
From a distance, it's quite a dark and scary picture. There's a man, tall and thin, dressed in clerical robes. He appears to be standing in front of other people, casting them into shadow, and these people appear to be scared. The colours are yellows and reds, and the swirling nature of the backdrop implies flame and fire. The first time I saw it, I named it "the scary pope picture" in my head. And then, as I said, I proceeded to avoid it as much as possible.
It was only recently, whilst on roaming duties, that I was forced to confront my irrational phobia of this work. What I discovered was enlightening, and made me re-evaluate my entire approach to both the image itself, and its place here in the library.
The illustration shows a Cardinal in a gold cape and mitre. He holds a staff in his left hand. A fallen man is slumped over at his feet and there is a crowd of people behind him, most of whom appear to be women. The Cardinal is depicted in color and the other people are depicted in black & white.
So far, so as I thought. There are however, words at the bottom of the painting. Le Cardinal Mercier protege la Belgique. Intrigued, I decided to investigate…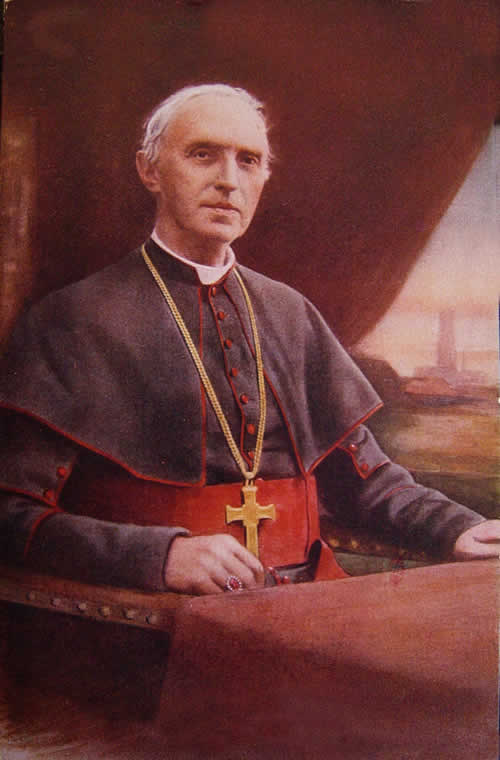 Désiré-Félicien-François-Joseph Mercier (21 November 1851 – 23 January 1926) was a Belgian cardinal of the Roman Catholic Church and a noted scholar whose work gained him recognition from the Pope. He was appointed as Archbishop of Mechelen in 1906 and was elevated to the cardinalate in 1907. And it is he who is depicted in the painting.
In August 1914 Mercier travelled to Rome to attend the funeral of the late Pius X, and participate in the conclave to elect a new pope. On his return from this trip, Mercier passed through the Port of Le Havre, where he visited Belgian, French and British troops who had been wounded during the German invasion of Belgium. Arriving home, he found the Mechelen Cathedral to have been partially destroyed. In the atrocities that ensued (in what became known as the Rape of Belgium) thirteen of the priests in Mercier's diocese, as well as many civilians, were killed.
Troubled by the events he was witnessing, Mercier distributed a pastoral letter, Patriotism and Endurance, to be read aloud in all Belgian churches in January 1915. Mercier's passionate, unflinching words were taken to heart by the suffering Belgians. He became Belgium's effective wartime resistance leader in the absence of the Belgian King Albert I and his government, and as such also became a focus of Allied propaganda during the War.
Following World War I, Mercier undertook an excursion to raise funds to rebuild and stock a new library of the University of Louvain. The original library had been burned by the Germans during the war, and an outraged Mercier travelled as far as the United States at the invitation of President Woodrow Wilson.  The trip brought him honours and financial support with which to rebuild the Louvain Library and to replace some of the valuable illuminated manuscripts which had been lost within it.
So what of the artist that produced the picture of this humanitarian cleric and scholar?
Charles Fouqueray (seen here in a self-portrait) was an artist who occupied an important and unique niche in the annuals of French art. Despite Impressionism becoming the prevailing artistic fashion at the time he was working, Fouqueray wholeheartedly adopted well-defined realism for his many works. Most often, his pictures emphasized the efforts of people, with segments of ships and buildings featuring as his background settings.
Born in Le Mans, Dominique Charles Fouqueray (his full name) was exhibiting in the Salons before his 21st birthday. He studied under portraitist Alexander Cabenel and historical painter Fernand Cormon, and their influence can clearly be seen in his compositions. However, events of the First World War influenced Fouqueray's direction even more profoundly. He became an official painter to the Navy and sailed on several tours to the French Colonies in Africa, Asia and the Australian continents, and produced many wartime posters.  After the war, he became a popular illustrator for journals and books, including some of Rudyard Kipling's writings.
His portrayal of Cardinal Mercier is not a comforting one. Anecdotal evidence suggests I'm not the only member of library staff to find the image unsettling or scary. Whilst the Cardinals pose is that of a shepherd protecting his flock, there is an element of menace to his expression which sits appropriately with his staunch denunciation of the German occupation and the atrocities committed during the war. Perhaps it's worth remembering that the Belgians he is sheltering are depicted behind him, rather than around him. They are the wounded and scared figures in the background. He is in front of them, confronting not us, the sympathetic observers, but the German forces and commanders. Perhaps in this context, his countenance is understandable.
I won't pretend that finding all this out, and knowing the story behind the picture makes it any more appealing to my eye. But I'm glad I now understand it, and that I know just how appropriate it is that it hangs where it does, in the library of a free and democratic country. Just don't send me up there with the lights off!
Picture credits:
"Le Cardinal Mercier protege la Belgique" (1916) by Charles Fouqueray (copyright expired, in public domain)
"Heroic Belgium: Monsignor Cardinal Mercier, Archbishop of Malines" (Vintage postcard) Editor F. Buyle, Brussels, with an advertisement on the back for "Sirop de Deschiens" (Brussels) Private collection.
"Charles Fouqueray" (1869/72-1956) Autoportrait Huile sur toile, signée et datée 1911 en haut à droite. 73 x 60 cm http://catalogue.drouot.com/ref-drouot/lot-ventes-aux-encheres-drouot.jsp?id=1420762
Compilation image: http://www.cardinalmercier.be/