Artist's books by Guy Begbie now on display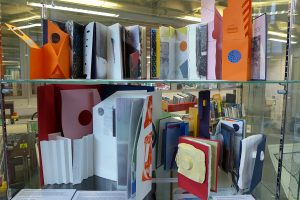 We are pleased to display a series of experimental artist's books produced by Guy Begbie.  You can find some of these books displayed in the first glass cabinet on your left as you enter the Library Atrium and still more up the wooden stairs in the glass cabinet on the first floor display area, just outside the Area 1B Individual Silent Study Zone.
You can find more about Guy Begbie and his work and even ask the artist a question on his website: https://guybegbie.com/
Visitors are welcome to view the displays.  Please bring photographic ID with you and sign in at Reception.
Your display here?
We are always on the lookout for creative sorts from all departments and walks of life to display their passion in the Library.  If you or someone you know has any sort of display, artwork, photographs or three dimensional artworks to display, please get in touch.  The Library hosts some of the most visited display spaces on campus and we would be very happy to help you choose a suitable display space, mount and promote any display of your academic, hobby or personal project materials.