Poem in your Pocket Day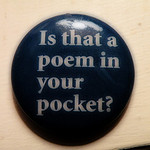 Today is Poem in Your Pocket Day in the USA. The idea is simple – find a poem you like, stick a copy in your pocket and share it with friends during the day. We think it would be nice if it caught on in the UK.
If you agree, then here's a website with some pocket sized poems for you to print and share.
Photo by theunquietlibrarian