Audio Arts Archive available online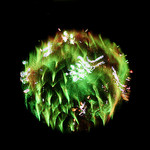 Audio Arts was originally produced as a cassette-based magazine for the new generation of British artists and art professionals to talk about their work in a free and an unmediated way.  It was established in 1973 by William Furlong and Barry Barker and ran for the next 33 years.  All published volumes are freely available online from the Tate's Audio Arts Archive.
Contributors include Marina Abramovic, Joseph Beuys, John Carson, Tracey Emin, Damien Hirst, Nancy Spero and Rachel Whiteread and material includes, interviews, conversations, performance and music.  This primary source material will add another dimension to your research.  You might also like to take a look at, or should I say listen to, the British Library Sounds database.  Follow the links to Arts, Literature and Performance then Arts & Photography where you will find "intimate encounters with the life and work of British painters, sculptors, photographers, designers and architects".
Photo by Ars Electronica