King of Portsmouth: an engaging exhibition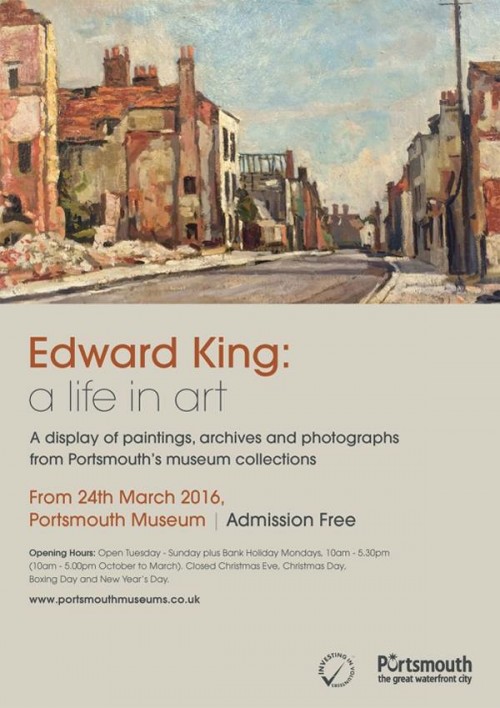 You may remember back in January I blogged about the devastating effect of the Blitz on Portsmouth which took place 75 years ago. Some of the most evocative artistic images of this period, which retain all their power and emotion today, were created by the artist Edward King. Now, in a new exhibition, Portsmouth Museum (just across the road from us in Museum Road) are displaying many of his wartime works alongside those from other periods of his life.
Edward King was born in Kensington in 1862, and was the son of a banker. In his youth he studied art and the violin in Leipzig, but focused on painting (particularly in watercolour) after his return to England.  His illustrations appeared in well-known publications including Punch and the Illustrated London News, and he exhibited many times at the Royal Academy. King moved to South Harting (near Petersfield) with his brother in 1884, where he married his wife Amelia.  However, in 1924 she died of consumption, and he suffered the breakdown which would bring him to Portsmouth. King was resident as a patient within St James' Hospital in Milton from 1925 until his death in 1951. During this time he was encouraged by the staff to continue to paint and draw, in the hope it would alleviate his depression. He became a familiar figure in the area as he sat outdoors painting multiple scenes of houseboats or the hospital grounds, and the exhibition contains many examples of his series of houseboat paintings, as well as some surprisingly rural-looking studies of Milton featuring trees, agricultural activity and in one memorable painting, a complete field of cabbages.
In 1941, with the support of his doctors, King began documenting the aftermath of the blitz in Portsmouth. Escorted by an attendant, he went out into the bomb-damaged streets to paint local scenes that showed the war-torn state of the city. While some of the streets he painted are almost unrecognisable today, others are eerily familiar, with distinctive buildings surrounded by the type of destruction we can only begin to imagine. Especially moving are his depictions of the Guildhall after being gutted by fire, and the largest canvas in the exhibition, showing the Anglican Cathedral surrounded by the ruins of the High Street.
The exhibition also takes a broader look at King's work and life, and features around 70 paintings as well as archive material and objects related to both King and the blitz of Portsmouth. In particular, those who commented on my earlier blog with regard to the bomb map of Portsmouth may be interested to know that a complete copy is part of the material on display, giving another fascinating insight into the history of our city. When I visited, the map was the subject of much attention, with older residents sharing the recollections it prompted enthusiastically with both a group of French students and local schoolchildren.
The exhibition is free, and on for at least the next few months, and I'd highly recommend it to all those interested in both art and local history. Perhaps my only disappointment was that there is no accompanying book to buy  – but then we librarians always want a book from the gift shop, don't we? If you're interested in King's work, there's a good selection available to view online here: http://artuk.org/discover/artists/king-edward-18621951