Beautiful, Bookish, Beaulieu

Last Thursday, a band of adventurous staff set out by minibus (after only a short delay caused by being blocked in by a huge delivery lorry full of metal stuff) in the direction of the New Forest. Their destination? Beaulieu, home of the National Motor Museum, and also to the far lesser known Motoring Archives and Reference Library.
Visiting other libraries is something we all adore. Let's face it, our own collection can get a bit too familiar after a while, and it's inspiring and refreshing to see a different selection of material in a different home. It puts a new slant on the work we do, places it in a wider context, and educates us about what's out there – there's nothing quite like being able to confidently refer a student to another collection safe in the knowledge that it will provide exactly what they need when we can't.
Most people have heard of Beaulieu. If you were to ask people what came to mind when they heard the word, they'd probably say cars. They might mention Palace House, the Abbey ruins, or the village of the same name. Motoring enthusiasts might talk of the famous Autojumbles. But how many people would say library? To be fair, it probably wouldn't be the most compelling thing to feature in their TV ads, or splash on their billboards. Libraries, with a very few exceptions, aren't "cool". And yet, tucked away amongst the oversized fauna to the left of the visitors centre and gift shop, is a building dedicated to the collection of not only books, journals, advertising and art related to motoring, but also a huge archive of photographs, documents and objects.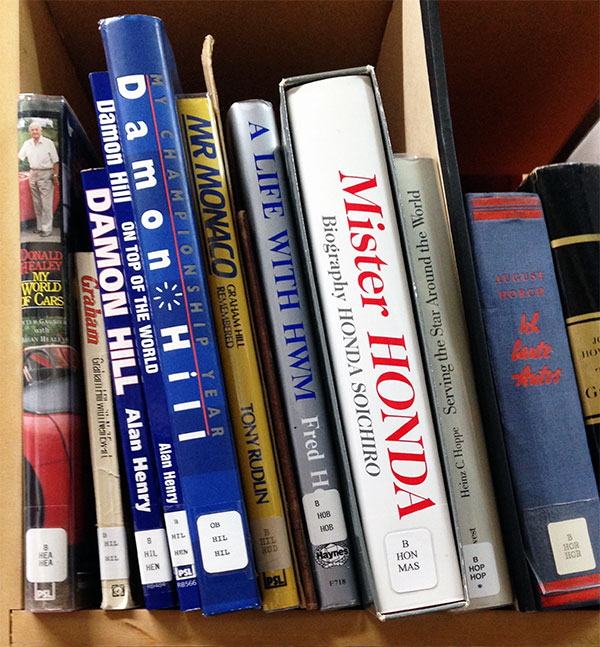 We were lucky enough to be shown around by the Librarian, Enquiries Librarian and Archivist, who each spoke eloquently about their area and role, and happily answered our questions. The Reference Library is housed in many tightly-packed rooms, with shelving reaching from floor to ceiling, every available inch used to it's best advantage. The nature of both the layout and the items themselves means the only access available to researchers is in the Reading Room (itself quite small, with space for 4 readers), with staff retrieving the material on request. The staff have created a unique classification system, which appeared very appropriate in a collection where Dewey, for example, would have been far too narrow. Our brief wander in amongst the shelves revealed enough material to have kept me happy for several hours; books on Formula One, books on early motoring, brochures for my beloved Fiat 500 (both old and new) and books written by and about Damon Hill! Sadly (or perhaps happily for the staff there) it was soon time to whisk us off to the archives!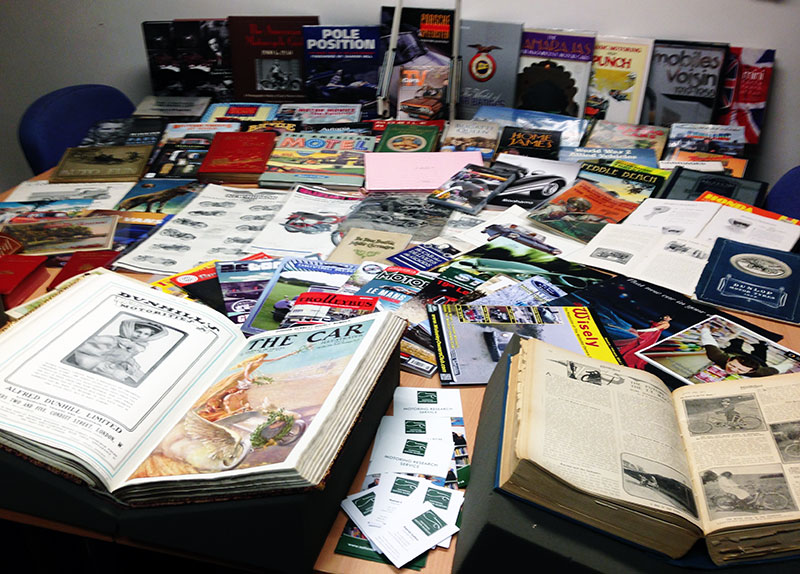 If we'd felt a sympathy for the Librarians, short of space and lacking in funding, I think I speak for us all when I say we were shocked by the sheer scale of the work balanced upon the shoulders of the Archivist. Employed only part-time, his task seemed almost insurmountable! The examples of preservation work he showed us were breathtaking, but tempered by the reality of the enormous and vastly under-resourced scale of what remains to be done. If we'd been more local, I think we'd all have been back at weekends to volunteer!
For anyone studying motoring, from design, engineering and manufacture to advertising, events, history or art, the collections at Beaulieu would be invaluable. Charges apply for visiting the library and using their resources, but I'd challenge anyone to come away without exactly what they needed. The expertise and knowledge of the staff, and their uncanny knack of putting their hands on whatever people need, would make every penny worthwhile.
Of course, our tour ended all too soon, and we found ourselves free to explore the more well-known areas of the collection…
Skipping like a group of excited schoolchildren (and much to the amusement of a group of excited schoolchildren!) our first stop was the monorail. Originally built for Butlins holiday camp at Minehead, it was moved to Beaulieu in 1974 and opened by the Wombles! The monorail gives passengers an overhead view of the site, passing through the elegant gardens and the Motor Museum itself.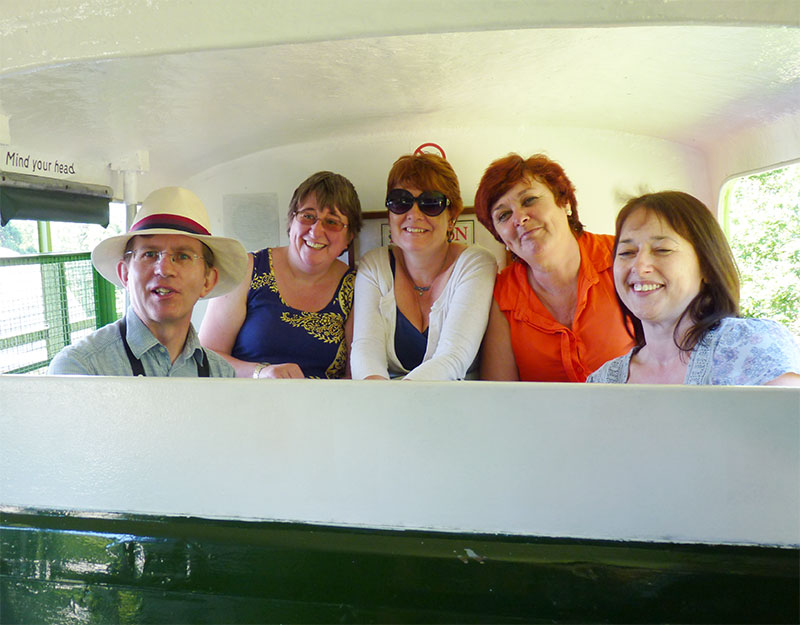 A quick stop to eat our sandwiches and partake of the very tasty tea and cakes on offer at the cafe was followed by a good look around the Motor Museum and a chance to get up close to some legendary cars.
Palace House, the Abbey ruins, the impressive gardens and the millpond walk all provided interest and entertainment during the afternoon, but for me, it was all tempered by thoughts of the poor archivist, working furiously to battle the ever-encroaching ravages of time and preserve those precious artifacts for the future. I looked at the shining bodywork of the numerous early Mercedes and Rolls Royce cars, polished and gleaming in the Motor Museum, and the multitude of antique oil paintings hanging forlornly in Palace House, and wondered how many photographs or books of letters could be saved with the proceeds of selling just one. I guess it's just the familiar old funding question faced the world over, with priorities judged according to the whims of those in charge.
The library and archive at Beaulieu operate as a charity, and receive no funding from central government, despite them having "National" in their title. They rely on donations from individuals, and the support of patrons, motoring companies and publishers. With a collection so significant, that represents an industry which has arguably done so much to shape and form the society we live in, I can't help feeling this is a shame.
You can find out more about the Reference Library and Archives at Beaulieu here: http://www.nationalmotormuseum.org.uk