Identity is the crisis, can't you see?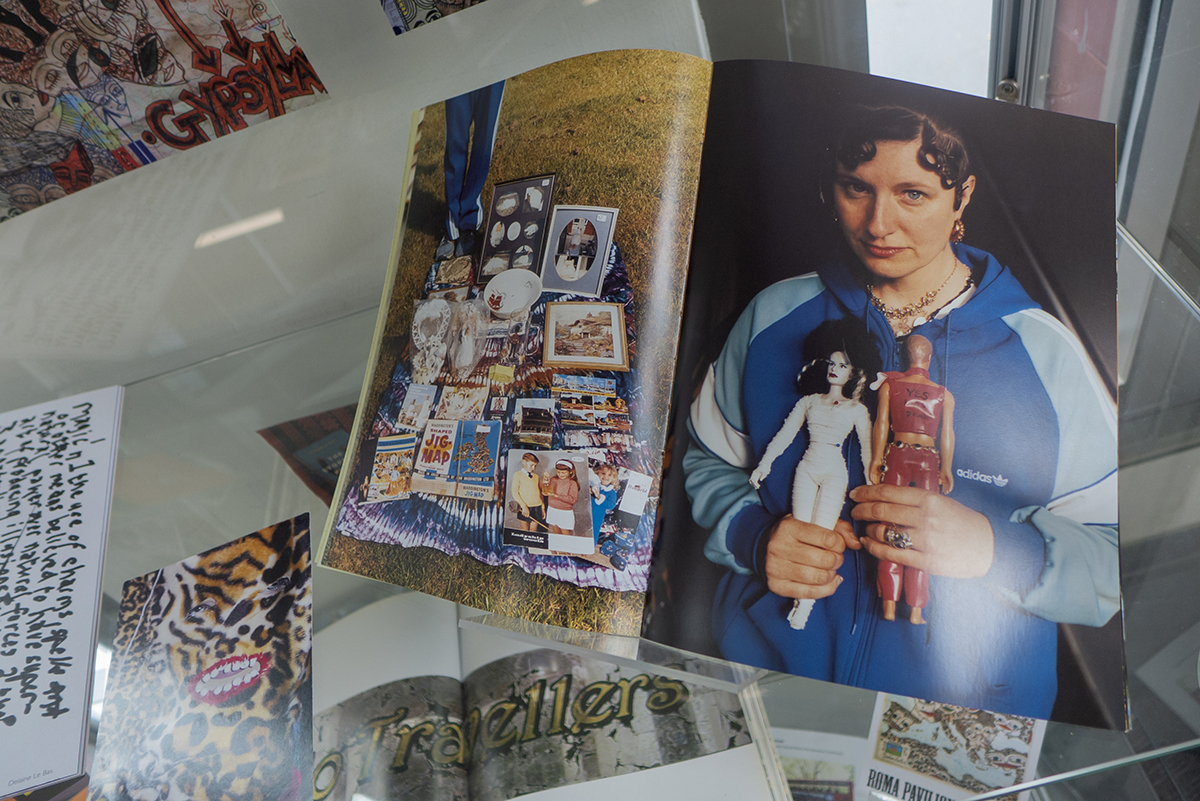 ~ by Dr Annabel Tremlett, University of Portsmouth
When you look in the mirror, do you see yourself?
Do you see yourself on the TV screen?
Do you see yourself in the magazine
When you see yourself, does it make you scream?

X-Ray Specs, Identity, 1977
It was Delaine Le Bas, distinguished Roma contemporary artist, who used the lyrics of X-Ray Specs in her 2015 exhibition Say No To Identity Theft in Budapest, Hungary. For her, the lyrics, sung by female punk icon (known as Poly Styrene) form an "ongoing theme tune for my life", giving her an inroad for expressing "the idea of how you could purely be yourself in what you looked like and sounded like [with] no need to conform".
Do you see yourselves on the TV screen? Do you see yourself in the magazine?
People from Gypsy, Roma and Traveller heritages rarely see themselves represented in public spaces except in terms of 'hypervisibility' – a type of visibility in which images 'of Gypsies' are very available, so it feels as though we might 'know them', but in fact, these images form racialised stereotypes that have little to do with their everyday lives. Delaine Le Bas' artwork continually works to question this, disrupting the gaze and exposing the archaic and exclusionary based structures that this gaze is mired within.
To focus on visuality as existing at the heart of racist ideologies makes sense when I think back to my (nearly two decades!) of experience working with people from varying Gypsy, Traveller and Roma heritages. I spent many years living in Hungary where I carried out my PhD research and have been fortunate to gain a number of grants to enable me to regularly visit and follow people's life stories from child to adulthood, asking them to take photographs that become the basis of our conversations and interviews[i]. This has resulted in a huge database of images and interviews that chronicle the lives of my participants from their childhood (many children were around 7 at the start of my project) to the present, when they are in their late 20s. During these years I have become more and more interested in the ways visuality is so powerful in our societies – the photographs my participants take are very far removed from the types of images we are used to in public spaces. When there is so little diverse visual representation of a certain group of people, and such a hammering of age-old stereotypes, constantly reproduced, it seems obvious that those age-old stereotypes will affect the ways we think about minorities and even our policy and practice.
Some commentators dismiss a focus on the visual as caught up in some kind of indulgent 'woke', weak identity politics. Why is it important compared to social topics such as exclusion, racism, poverty, deliberate state policies that work to exclude certain groups from labour, education and welfare, often referred to as 'structural violence'? In my work I contest that visuality and the ways we work as a society are closely interlinked, therefore it's really important to understand what this visuality does to us, how it affects us.
Let me explain this further. Whilst my own PhD was in Cultural Studies (using ethnography), I have ended up in a department that teaches health and social care students. I love teaching these students – they bring energy and curiosity to the lecture theatre, and lots of examples from frontline practice (as they all have to complete practice placements as a part of the course). A focus on the art of listening and understanding the person in front of them (rather than thinking of them as just a patient or service user), how to hear their stories, their ideas, and how to access the best quality research that helps with those crucial, crticial skills, is what I teach.
Health and social care interventions, whilst being based on evidence-informed practice and embedded in professional values and legislation, always includes personal values and attitudes, which students are encouraged to reflect upon continuously as a part of their developing professional practice. When it comes to Gypsy, Roma and Traveller people, what regularly comes up in my lectures are the ways students are very heavily influenced by popular media discourses and cultural productions. Even now, in 2023, UK Channel 4's Big Fat Gypsy Weddings (last aired in 2015)is still mentioned, with students accessing video clips and memes from social media platforms (mainly TikTok). Our students are very responsive to reflecting on these media stereotypes, and are always very shocked at the evidence that health and social care professionals often carry unwitting prejudices into their practices – see the crucial research by Dr Dan Allen and colleagues.
Big Fat Gypsy Weddings has an ongoing serious, negative impact on Traveller communities in the UK. Reports of an increase in bullying, particularly affecting children's attendance in schools, arose during the initial broadcasts. I witnessed heart-breaking stories about the impact on mental health from people from the communities at the All Party Parliamentary Group for Gypsies, Traveller and Roma in May 2014, where they had a whole session on Channel 4's show. Hundreds of complaints made to the Advertising Standards Authority (ASA) about Big Fat Gypsy Weddings contributed to the ASA re-writing their guidance on the use of stereotypes and offence in broadcasting .
It is therefore always important to address the harmful misrepresentations that still dominate our societies and think through how we sometimes just accept them, or even see them as a 'guilty pleasure'[ii] without thinking through the implications for the real lives of the people being misrepresented. Furthermore, there needs to be a deeper understanding as to how images affect us, why they materialise, why they stick around and how they can slip into our practices.
The collection of images in this exhibition are inspired by a conversation at a workshop in November 2019 for a project that engaged with activists and artists from LGBTIQ and Roma backgrounds from across Europe[iii]. We had already met in March that year, sharing intimate and often painful, always very personal stories about growing up and surviving in what are often very homophobic and racist societies across Europe (see Fremlova 2022 for more details of the methods and results). Yet at this stage of the project, the discussions shifted somewhat. There was a realisation that the types of images these activists and artists wanted to produce were not really for themselves or about 'their identities', or even to 'tell their story'. Instead, what these artists and activists wanted, very firmly, was to transform the societies we live in. If they were going to use their stories, then those stories are not just about working against negative stereotypes, but about imagining potential futures of more equal, kinder societies centred on social justice.
This really stuck with me – it's not about 'them' or defining who 'they' are, but about figuring out who 'we' are and challenging that.[iv] This is the thread throughout the work on display at this small exhibition at the University of Portsmouth library. There are examples from Roma art with artefacts on display from exhibitions that include British artists from varied Traveller and Romani heritages – Daniel Baker, Damian Le Bas and Delaine Le Bas – all who have featured in the 'Roma Pavilions' during the Venice Biennale. There is a graphic novella by contemporary Hungarian visual artist Roland Korponovics which tells the story, through very evocative, iconographic, stunningly colourful drawings, of the experience of a transgender Roma person growing up in Romania. Intersectionality is brought alive in Korponovics' work, of which this is just one illustration from our 2018-2019 project (see footnote 5). For more photographs from this project see here. There's also an example of a local Pompey hero. Johnny Smith (1929-2009) was a famous British boxer in the 1950s, and from a Traveller family settled in Portsmouth. What is interesting is the very classic 'tough guy' poses of the boxers in the original poster from 1954, juxtaposed with a text from Johnny Smith's son describing him as a gentle, kind family man with no desire to be 'tough' outside of his profession.
This multiplicity of identities can also be seen in campaigns from Roma-led organisations, such as London Gypsies and Travellers whose 2017 campaign 'We are all so many things' gets to the heart of multiple identities in a direct, engaging way. These were shown in last year's exhibition which can still be seen here. Finally, there is an article that looks to my own research with Roma children and families in Hungary. Through analysing 100s of self-representations taken by Roma people themselves, I come up with four main ways that Roma people represent themselves that is different from current stereotypes. This work, carried out in partnership with Professor John Oates from Open University and Dr Sanna Nissinen who worked with us as a researcher (2017-19, British Academy Grant SG162343) , paves a way for alternative images that don't just oppose negative stereotypes, but suggest new imaginings. I'm so pleased to use this experience to work with media organisations – I was a consultant on the ever-evolving Media that Moves campaign, and work with the Portsmouth Gypsy Roma and Traveller Intersectionality Group to address issues affecting these communities in our city. This exhibition, Celebrating the art and activism of Gypsy, Roma and Traveller people gives just a few examples of the wealth of art and activism out there and hopes to stimulate further interest in this exciting, important area of anti-racist activity.
Gypsy, Roma and Traveller History Month Activities 2023
Friends, Families & Travellers have a set of fantastic educational resources here: https://www.gypsy-traveller.org/grthm/ Travellers Times has also published a teaching tool to help in the classroom, see here: https://www.travellerstimes.org.uk/advice/free-resource-celebrate-gypsy-roma-and-traveller-history-month
Resources on 'Roma art'
Useful online resources can be found through the European Roma Institute for Arts and Culture (ERIAC: https://eriac.org/), the Rom Archive (https://www.romarchive.eu), the foundation and art gallery Kai Dikhas in Berlin (https://en.kaidikhas.com/foundation-kai-dikhas/), and the Romani Cultural & Arts Company https://www.romaniarts.co.uk/resources/.
Display in the University Library
A display for Gypsy, Roma and Traveller History Month is available on the first floor landing of the University Library.
---
[i] British Academy Small Grant 2017 – 2019 (grant SG162343); 'Visual representations of Roma, moving beyond stereotypes' (with John Oates and Sanna Nissinen); University of Portsmouth Research Sabbatical (2017); British Academy Award 2012-2014 (grant SG112414): 'Self-representations of social mobility in a study of Roma and non-Roma young people from low socio-economic backgrounds in Hungary'; University of Portsmouth 2010-11: Research Mini-grant; University of Portsmouth 2009-10: Start up Fund.
[ii] See Zoe Ball 2011 'On the Red Carpet at the 2011 BAFTA Television Awards' in which one guest 'confesses' that BFGW was her 'guilty pleasure'; or Mike Farragher, 2011 "My Big, Fat Gypsy Wedding' – a fat, guilty pleasure. In Irish Central newsletter, June 23rd 2011.
[iii] Challenging dominant representations of LGBTIQ Roma in public spaces through queer-informed interventions. 2018-19, with Fremlova, L., Tremlett, A., and Jensen, O. Economic and Social Research Council UKRI, Grant ES/SO11234/1
[iv] Many thanks to all those who took part in this project: Dr Lucie Fremlova for her fantastic work as lead researcher with Dr Olu Jensen as a superb mentor from the University of Brighton, and artists and activists who contributed so much of their time, energy, personal stories and professional expertise.