From the Special Collections – Lino and wood prints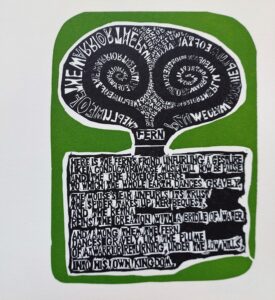 We recently had a request from a MA Illustration student to view books from the University of Portsmouth Special Collections that highlighted lino prints and wood block prints.
We found some really remarkable examples such as English As She Is Spoke by Pedro Carolino & Illustrated by Edward Bawden (1960), Rubaiyat (of) Omar Khayyam by Omar Khayyám, illustrated by Hussein Gaman, and translated by Edward Fitzgerald (1974) and I Left My Grandfather's House: An Account of His First Walking Tour by Denton Welch (1958).
As they were so stunning, we have taken the opportunity to share with you some of the beautiful books that were selected. They will be displayed on the mezzanine level of the library during March.
Many of these books were printed by Lion and Unicorn Press which, illustrated, printed and bound beautiful books at the Royal College of Art. To find out more about Lion and Unicorn Press please visit: https://www.royalacademy.org.uk/art-artists/organisation/lion-and-unicorn-press
To learn more about the Special Collections at Portsmouth University please see here: https://library.port.ac.uk/10549
Image reference: Poems / by Ted Hughes; linocuts by Gavin Robbins 1968