A helping hand with heavy books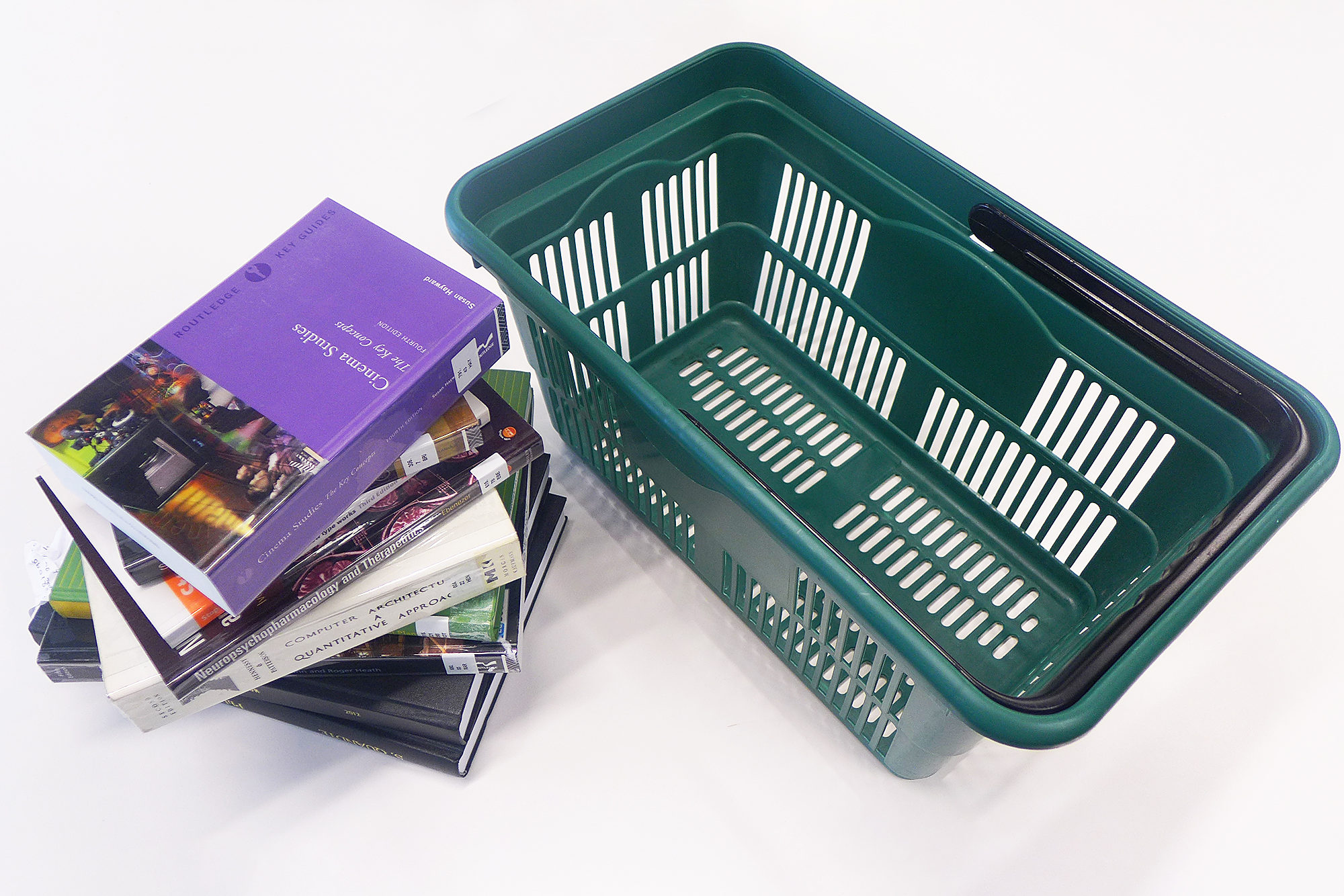 Anyone can injure themselves and find it difficult to carry books around, and while we make as many books available electronically as possible, some books are only available in print, and many people prefer to read from printed books when they study for extended periods. Often heavy books – the sort you can use to prop open a door shut or build a small bunker. With that in mind, we make wheeled basket trolleys available in the Atrium, lifts to every floor, and you can even ask library staff for a stand to lift your book up to a comfortable reading angle, so you don't have to hold it. We only have one stand, but it gets so little use that I felt I should point out that it exists!
Getting trollied
In addition to the accessible desks and software, wheeled trolley baskets, the Click & Collect service where you can request books and staff will leave them for you to collect from the shelves in the Atrium, and the postal loans service, where staff will post books to anywhere in the UK, we also have a range of physical accessibility aids, such as wheeled trolley baskets and a book stand that holds books up and at a convenient angle to read. These services and facilities in combination are as useful for the otherwise fit and healthy person who has strained their arm at the gym as for the person with a persistent physical disability and are intended for everyone to use.
Beyond print
For anyone with a visual impairment or print disability, such as dyslexia, we may be able to offer additional services, including making printed materials that are usually available only in print available in a more accessible, screen reader-friendly electronic format. If you have any difficulties with your sight – including if you injure yourself or develop sight or reading problems while at university, please don't hesitate to contact the Library in confidence to discuss your needs. We have well-established procedures for supporting clients with additional needs and work with ASDAC, publishers, and the RNIB to help ensure you have the best study experience possible. We just need to know what your needs are!