Finding your (e)books: a guide for the perplexed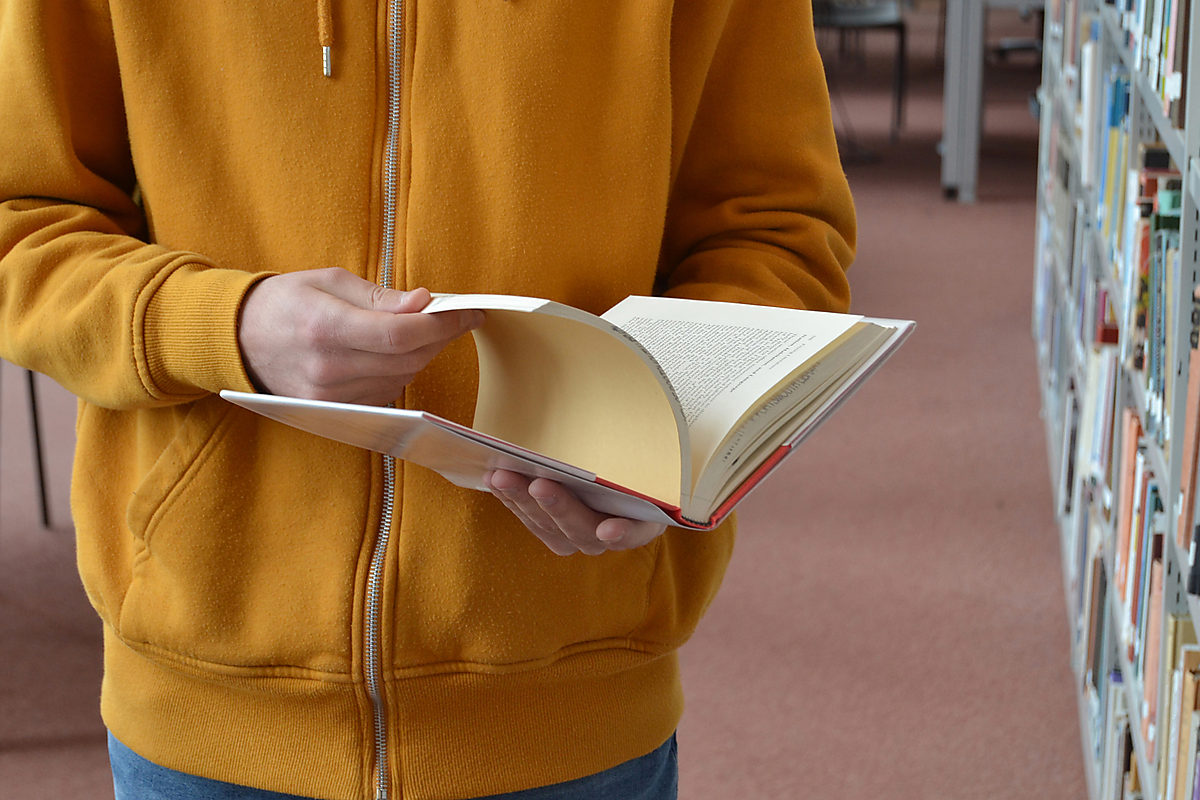 We're helping a lot of students find the books they need for their course. While we always enjoy meeting you, it occurred to me that perhaps some of you might need a helping hand getting started finding books for yourselves. It is easier to show someone how to find a book than describe how to do so in writing, in fact it's easier to actually find a book, but I'll try to spell everything out anyway…
Start with your reading lists
Online reading lists make life much simpler. Often nestled in your taught Moodle units, online reading lists link directly to electronic resources online or to the library catalogue record for anything we hold as a physical, printed book or magazine.
Using electronic resources
If you are connecting via the University computer network, you should be able to access most electronic resources without logging in. If you are asked to log in, look for anything like "institutional login" or "sign in via your institution" and then tell them you are from the University of Portsmouth. When you get to a UoP login screen, sign in as if to Moodle.
Connecting from off campus
On your own computer (workplace computers, particularly Government and military computers may not permit this), you can download the GlobalProtect VPN – an app that allows you to connect to the University network from anywhere in the world and work as if on campus. This MyPort page shows you how to download and install the VPN. If you can use the VPN, it saves you a lot of logging in, allows you to access those few electronic resources that do not allow off-campus login any other way, and bypasses most of the login problems that electronic resources experience from time to time. The only downsides to using the VPN are that you have to log in once when you start your session and it might slow down your network connection at peak times.
If you have any difficulties logging using any electronic resources, please chat to us online and we will usually be able to talk you through the problem on the spot. If not, we will find a fix or workaround as quickly as we can.
Finding printed books
1. Find the shelfmark (classmark)
Unless you have been given the shelfmark (classmark) for a particular book, you will need to first find this using the Library catalogue or Discovery Service. The catalogue is the easiest tool to use to find books and ebooks. Click the blue Click to search library resources button at the top right of the library homepage to go to the Library search page. On mobile devices, this might appear as a spyglass/magnifying glass button. The catalogue search box is the second one down.
Search for a topic or the details of a specific book. Click on the title of anything you want to read to bring up the full record.
In this post, I'm going to show the search for a book on psychoanalysis.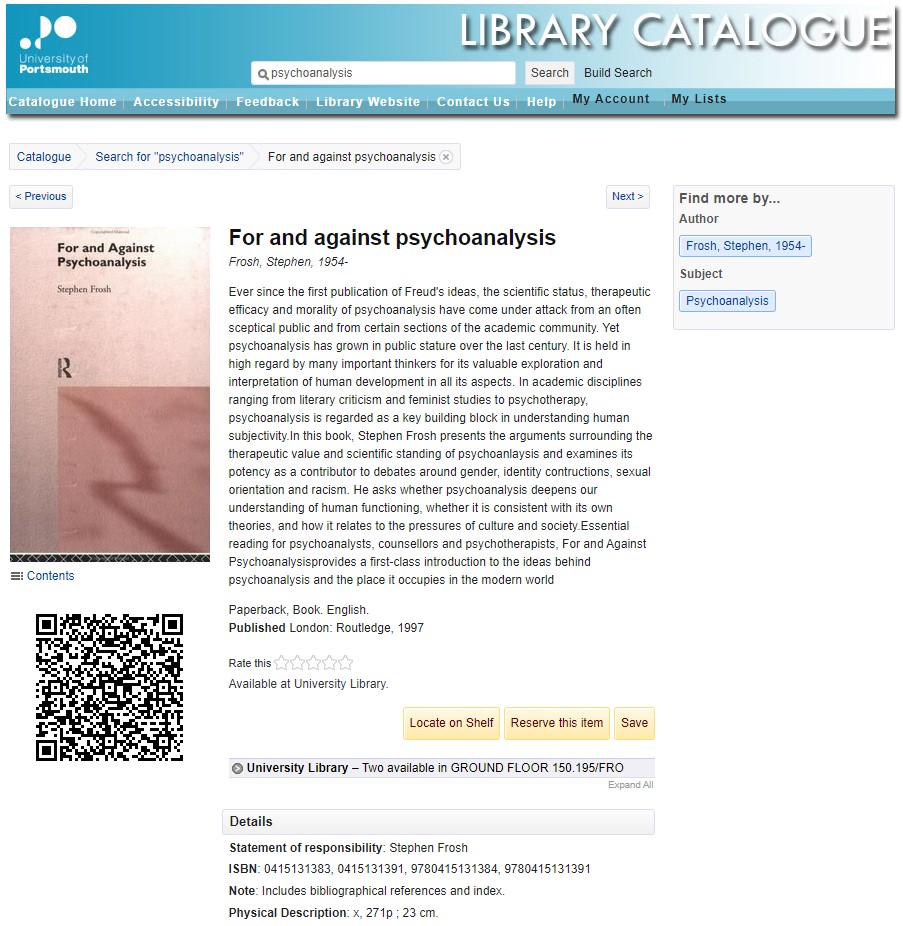 The most important part of a catalogue record is the grey strip mid-way down that tells you the shelf mark. In this example, this book can be found at shelfmark 150.195 FRO. Books are arranged on the library shelves in increasing shelfmark number order; within each exact number, they are arranged alphabetically by this three-letter code, usually the start of the first named author's surname.
All the books on a particular topic are (usually) shelved at the same shelfmark number, making it easier to find everything on a topic.
Top tip – If you are searching on a desktop/laptop computer, take a photo of this with your phone or note it down, including the three letters at the end so that you can refer back to it when looking for the book on the shelves.
2. Find the shelf (or have someone fetch it for you)
In every catalogue record there are two very useful buttons:
Locate on shelf
Reserve this book
You will always want to use one of these to find your book.
Request a book using the Click and collect service
You can always reserve any book using our Click and collect service. If you do, you will be emailed once it is available for you to collect from the shelves in the Atrium. This service usually takes 2-3 days.
Finding books yourself
Click "Locate on shelf" in the catalogue record to find a book yourself. This brings up a floor plan of the section of the Library where your book is shelved with the shelf it should be on highlighted. The floor plan will tell you in one corner which floor you are looking at, and the floors are colour coded: purple for the ground floor, yellow for the first (middle) floor, and red for the second (top) floor. In our example, the book I am looking for is shelved in the main part of the ground floor.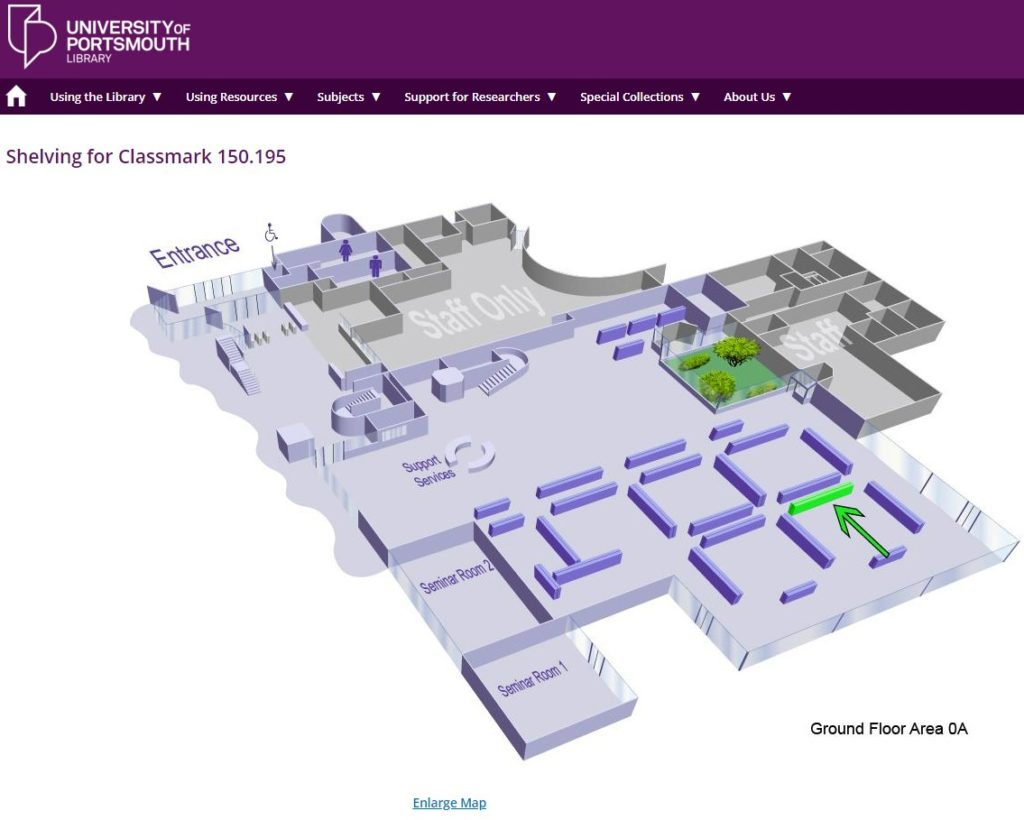 3. Finding the book
You can now find the book on the shelf. If you are unfamiliar with libraries in general, it helps to understand how books are shelved. Library bookshelves are arranged in bays, separated by vertical dividers. The shelfmarks increase along each shelf and from top to bottom within a bay. They then move on to the next bay and so on, working their way along one side of a row of shelving before wrapping around and carrying on along the other side, then on to the next row in sequence, and so on.
Within each exact number, the books are arranged alphabetically by the three-letter suffix following the numerical part of the shelfmark number. There are floor plans around the library that show you how the shelves are laid out, but please do ask a member of Library staff if you can't find what you want, especially if you think you have found where a book should be but it is not there. Particularly on the ground floor, the layout of the book sequence is not particularly obvious until someone has explained it to you.
Double filing suffixes
For a few subjects where there were a few very important thinkers whose ideas lots of people have written about, some books have two three-letter codes after the shelfmark number, e.g. 301.092 DUR/GID. This convention is used where there are a few major theorists and lots of other people writing about them. The first three-letter code is the theorist's name. In this case, DUR stands for the English social theorist Emilie Durkheim – and serves to bring together on the shelf all the books discussing this theorist's ideas. The books shelved at 301.092 DUR are then arranged alphabetically by the second filing suffix, which is the start of the surname of the person writing about that theorist, so a book by Giddens about Durkheim's ideas would be shelved at 301.092 DUR/GID. As always, if in doubt, please ask a member of Library staff to explain/help find your book.
Afterword – Finding books is easier than describing how to find books
It is likely (depending on your subject) that most of your books will be clustered in just 1-2 places in the library, so once you have found them once, it will be much easier to find where to start looking thereafter. Unless, of course, you are studying History, Geography, or Sports Science, in which case your books are scattered to the four winds and you will be looking in different places for each different aspect of your interdisciplinary subject (History is its own discipline, but our classification scheme shelves the history of a subject with the subject, so the history of women is shelved with feminism, and so on, scattering the books on history far and wide).