Study well tips #1 – Find a space that's right for you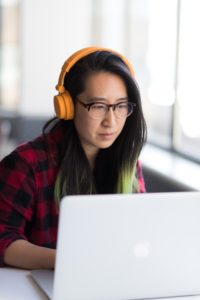 Everyone's ideal study space looks and feels different. That is why the Library comprises a whole series of spaces that look and feel very different. From the collaborative study spaces near the Library Café, which have an energising noise from gentle background chatter to the mixture of computers and soft seating in the rest of the Library and the rows of formal desks with dividers to minimise distraction from others in the Individual Silent Zone, there is somewhere for everybody.
The search for silence
If you find enjoy quiet spaces, try working in our Independent Silent Study zone on the top floor of the library. You will recognise the area because it is marked by purple pull-up banners near the entrances to the space. You can also ask for free, reusable, sound-cancelling earplugs from the temporary reception desk by the temporary library entrance. This can help reduce the impact of noise from any building works. Some people find any busy spaces to be stressful; this webpage offers advice for all of you seeking quieter places to avoid busy, noisy library spaces in the Library altogether.
If someone is making a noise and distracting you, please discreetly text where you are, and a brief description of the problem to 07860 756894 and a member of our Security team will come round and speak with the perpetrators.
Finding your buzz
If you enjoy a certain level of background noise as you work and find some library spaces too quiet for you to study comfortably but find listening to podcasts, YouTube videos and other such things through headphones too much of a distraction, you can now try streaming the sounds of study recorded in the Bodleian Library in Oxford.  You can listen to soundtracks from four different libraries around Oxford University using the pull-down menu.  Listen to others working around you at any volume you choose!  
Not too hot, not too cold
Different people prefer a different ambient study temperature. Happily, different spaces within the Library are naturally at different temperatures, so it is likely that if you wander around the building, you will be able to find somewhere that you find reasonably comfortable. The whole library is likely to become warmer once the main entrance re-opens; until then the Café side of the ground floor is cooler than usual.