Borrowing books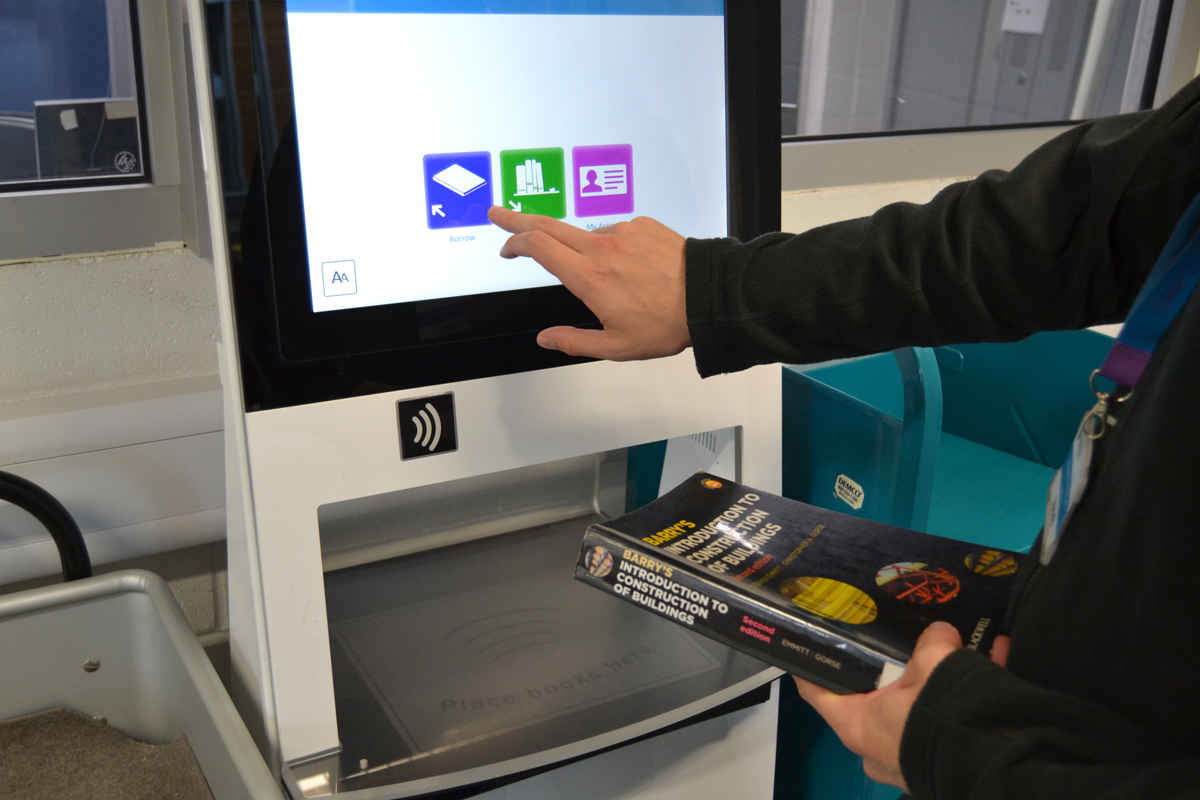 Finding books might involve a learning curve but borrowing and returning books is easy.
The self-service kiosks in the Atrium let you borrow an entire stack of books at once at any time the library is open, which means anytime 24/7 during term-time! Pile your books up on the glass plate, tap "Borrow" on the screen, scan your university card against the black fob on the front until the kiosk recognises you, then wait a moment until all the books are listed on screen.
Usually, everything will appear listed on screen with a green tick against them to show they have been issued properly. Follow the on-screen instructions to finish. If anything else happens, please ask a member of staff for assistance. Very occasionally, books need to be manually issued because something has gone wrong with the RFID tag in the book (the tech that tells the kiosk what the book is).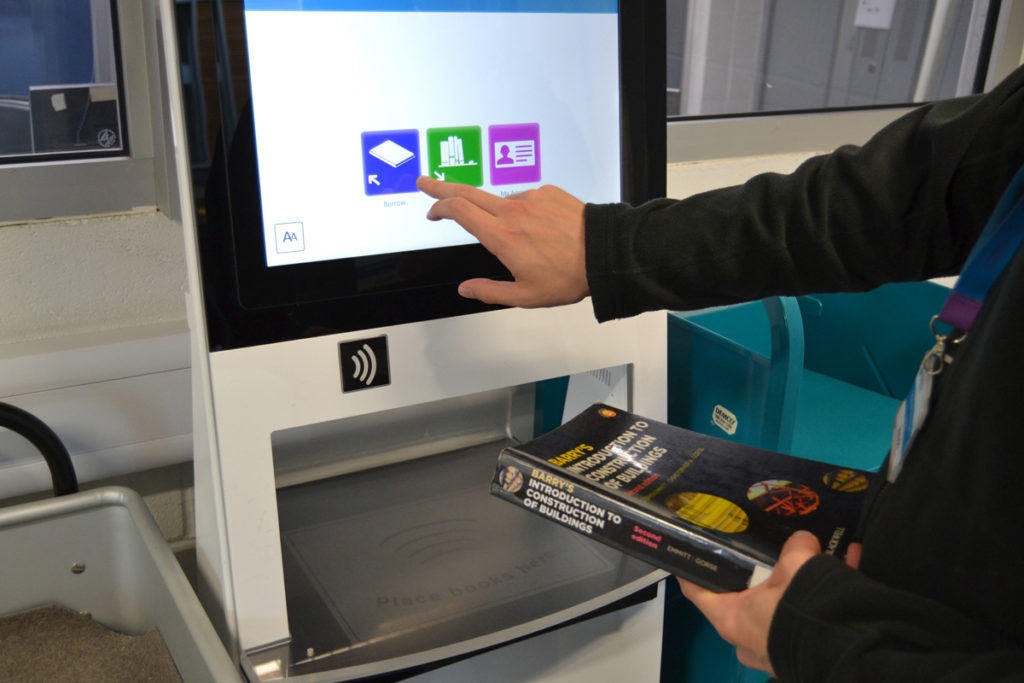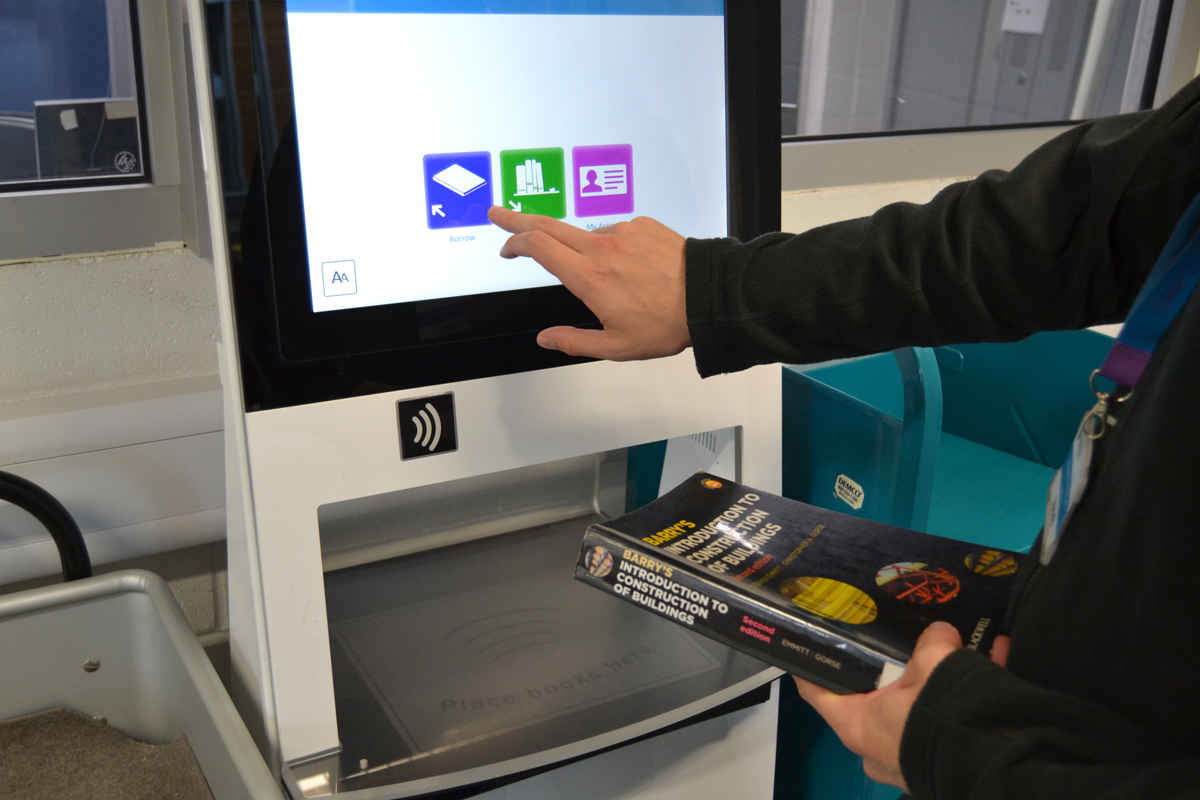 How long can I borrow books for?
Everything you borrow you can keep for the entirety of your course or until someone else requests it. If someone requests a book you have on loan, you will receive an email from the library asking you to return your "recalled" book within 7 days. Please return any recalled books on time – others need to use them as well. You are welcome to reserve the book (request it back again) as soon as you have returned it.
Reserving books
You are encouraged to reserve books when no copies are available in the library because all the copies are on loan to others. To reserve a book, look it up in the library catalogue (from the library homepage, click the "Click to search library resources" button in the top right and search the library catalogue using the second search box down), click the "Reserve" button, then follow the on-screen instructions. Make sure you have clicked "confirm" at the end of the process and can see a green box confirming your reservation has been placed.
My Account
You can see everything you have on loan, everything you have reserved, everything you have borrowed previously and returned, your requested interlibrary loans, and even your library room bookings through My Account (From the library homepage, follow the drop-down menu options: Using resources > Library catalogue > click the "My account" link in the sidebar).
When signing into the library catalogue or placing reservations, remember you need to use your library number and not your student number. Your library number can be found on your university card.