Finding the books you want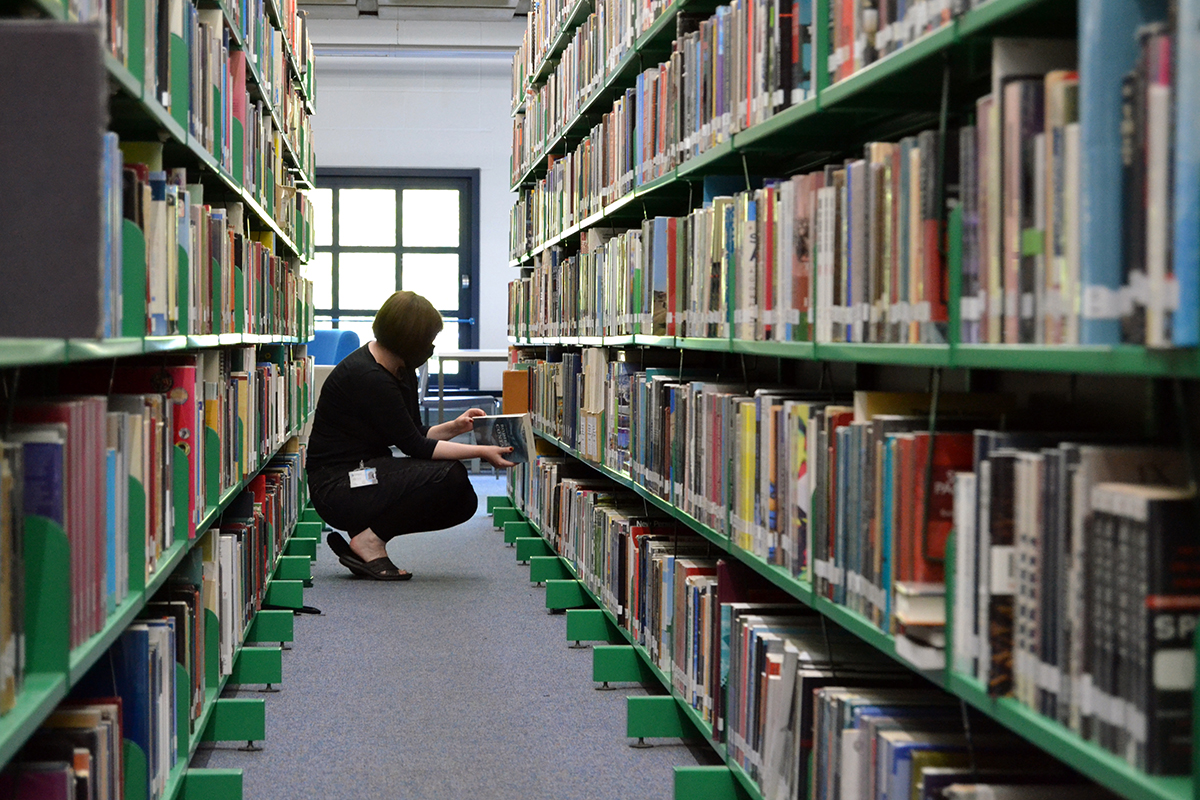 A step-by-step guide to wandering around the library without feeling lost
Finding books is easier than you might think. It might not feel like that when you first walk into the Library and realise it dwarves the college library you might have been used to using but there are a few very simple tricks to finding your way straight to what you want.
Before you start
You can always ask a member of staff to help you find anything in the library during staffed hours. You can always request specific books be put on the reservation shelf near the cafe for you using our Click & Collect service.
That said, learning how to find books for yourself is very useful. It allows you to find books without having to wait for days to get them, and if you can find the shelfmark where all the books on a topic are shelved, you might stumble across books you want to read that you would never have thought to look for otherwise. Serendipity (finding good things by chance) is a wonderful thing!
Finding specific books and ebooks
Starting with reading lists
The easiest way to find anything that is recommended reading for your course is usually to go to the online reading list, which is usually linked from the relevant Moodle unit. (You can always find all your reading lists on your My Lists page – it might be a good idea to bookmark this link so you can find it easily in future.)
How do reading lists make life simpler? They link straight to everything online that you are being asked to read, from ebooks to journal articles, and for anything only available in print, they tell you how many copies are available and where to find them.
Starting with the Library Catalogue or Discovery Service
Searching the library catalogue does the same thing for books and entire topics that are not explicitly mentioned on reading lists. Click the blue "Click to search library resources" button on the library homepage (you will get very familiar with this button over your time at uni) and go to the catalogue search – the second search box down. You can search the Discovery Service for books, ebooks or databases but unless you tick the "catalogue" filter on the left side of the search results screen you will likely see the results you want drowned out in a list of thousands of journal articles that match our search. Click on the title of anything you want to read to bring up the full record.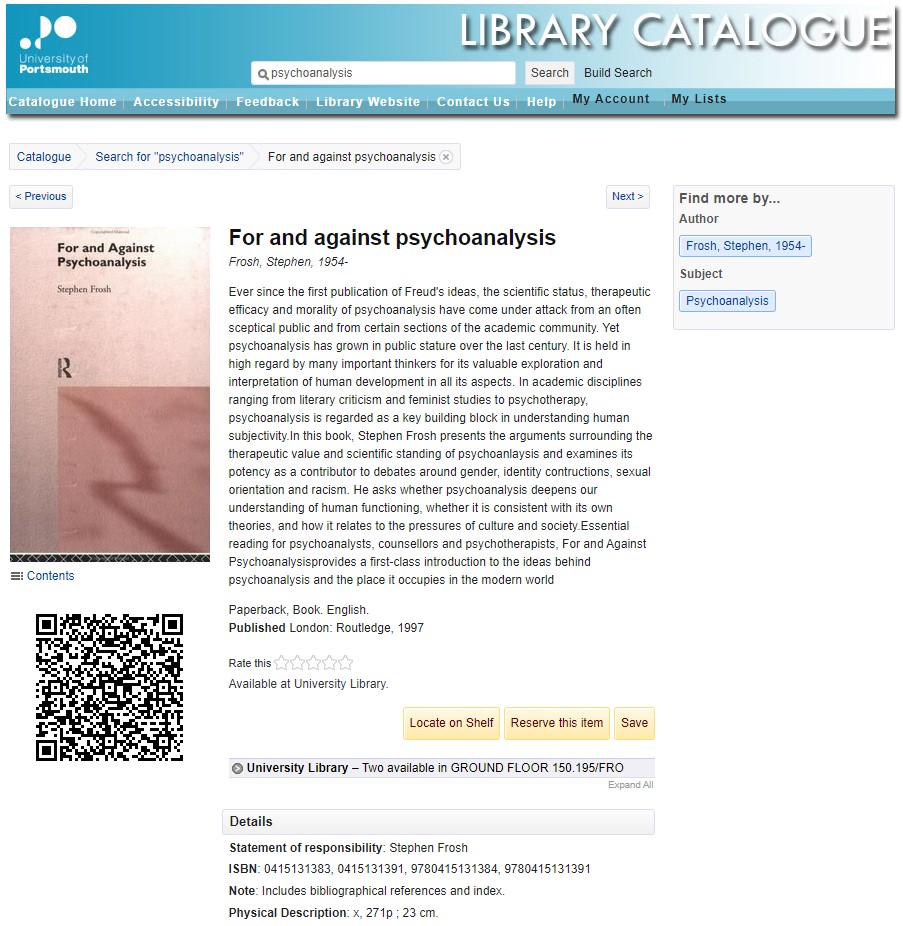 From reading list or catalogue record to shelf
Every reading list entry and catalogue or Discovery Service record for a print book will include a strip (mid-way down the record in the catalogue) that tells you its shelfmark number. This will look something like 302.222 FRE. This is what you need to know to find the book on the shelf.
Both reading list entries and catalogue records (but not Discovery Service records) include a "Locate on shelf" button. Click this to bring up a floor plan with the shelf where you can expect to find the book highlighted. Using this, you can find the right floor and the right shelf, so you just need to look along for the precise shelfmark number of the book you are looking for.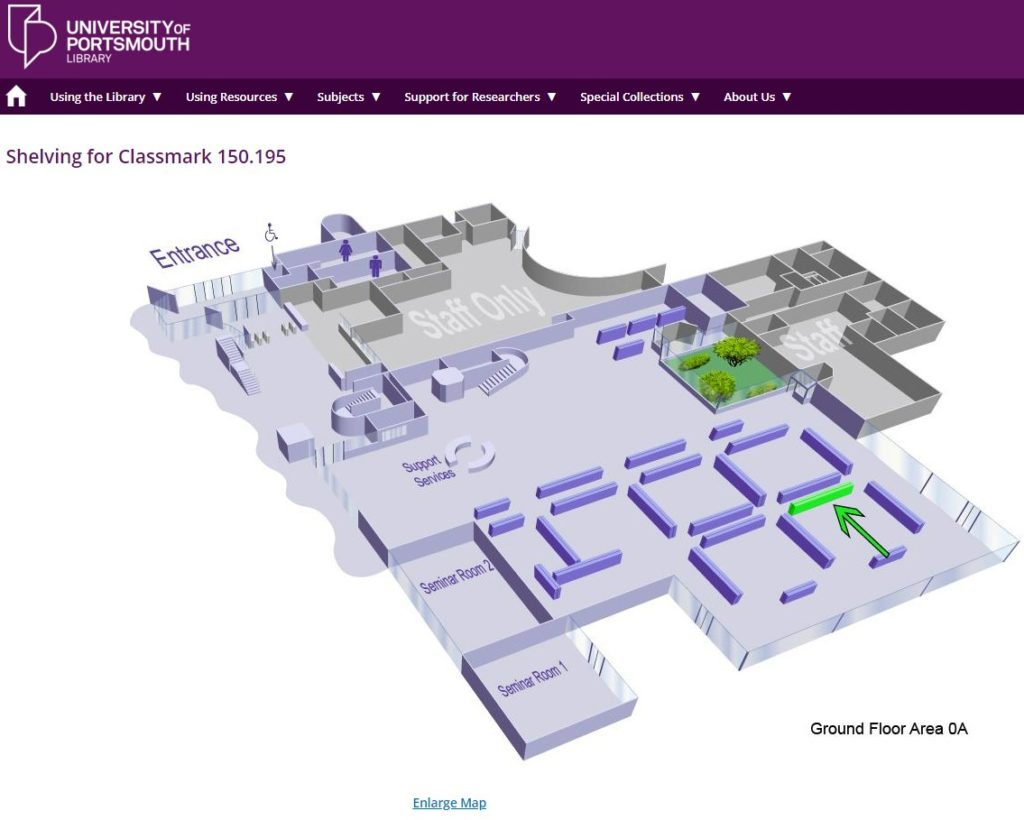 Finding a book on the shelf
There is a simple and reliable method for finding a book:
Use the floor plan that shows you where the shelf you want is and/or look at the shelfmark flags on top of the ends of shelves to find where in the shelfmark sequence you are.
Once you find the shelves that should contain the shelfmark of the book you want, walk down the shelves and check the shelfmarks of books you are walking past every now and again. If the number is lower than the number of the book you want, keep going. If it is higher, turn back! The shelves are arranged in bays (vertical stacks of short shelves bounded by unmoving metal bookends), the shelfmark sequence increasing from left to right along each shelf within a bay and from top to bottom of each bay before moving on to the next bay to the right, so it is easy to walk along and see at a glance whether you have passed the bay where the shelfmark you are looking for is shelved.*
Once you find the exact shelfmark you are looking for, the books within that shelfmark will be arranged alphabetically by the three letters that follow the shelfmark number. Usually, these are the first three letters of the first named author's surname. This comes in helpful for those few shelfmark numbers where there are hundreds of books all at the same shelfmark (364 – Criminology is a case in point!).
Book found!
* It really is easier to understand this if you are look at a set of library shelves and follow the shelfmark sequence along. If you are still confused, ask a member of library staff to explain how the books are arranged – we get asked this a lot and are very happy to walk you through it. Don't worry – it's one of those things that seems very confusing at first but rapidly becomes 'obvious'.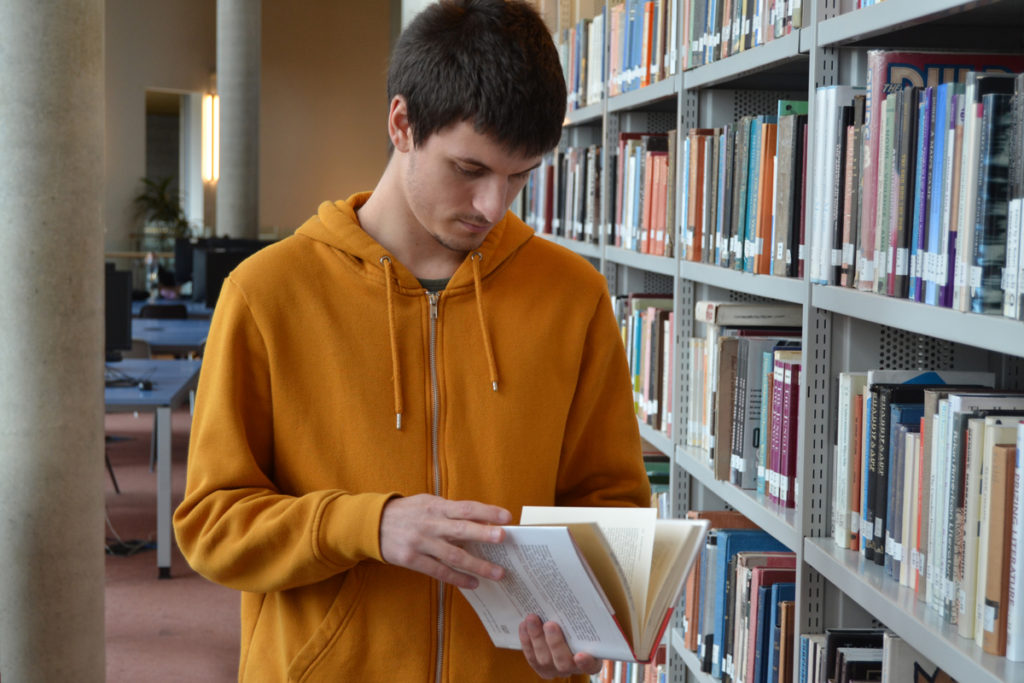 Double filing suffixes
For a few subjects where there were a few very important thinkers whose ideas lots of people have written about, the books have two three-letter codes after the shelfmark number, e.g. 301.092 DUR/GID. In this example, 301.092 is the number for English social theorists, and all the books about the theorist Emilie Durkheim are shelved at 301.092 DUR. Since there are lots of authors writing about Durkheim's theories, the books at 301.092 DUR are given a second three-letter code comprising the first three letters of the author's surname and these are added on to the end of the shelfmark. So, the book by Giddens about Durkheim has the shelfmark 391.092 DUR/HEA.
Last word – why we organise books the way we do
Libraries are arranged to make it as quick and easy as possible for someone to find all the books on any particular topic. We bring all the books on a particular topic together on the shelves with the most closely related subjects right next to it, spreading out to less closely related subjects and sub-topics as you move to longer shelfmarks. So more general books have shorter shelfmarks and books on very narrow topics have longer shelfmarks.
For example:
302 = Social psychology
302.2 = Communication
302.222 = Non-verbal communication
You can see how adding another digit to the shelfmark number quickly takes you from a very broad topic down to a very specific sub-topic. Now we know how shelfmark numbers work and why they are a useful way to organise library books, we should get back to actually finding a particular book on the shelves.
We organise books on the shelves in bays, rather than running the sequence from one side of the room to the other and then starting again on the next row because bays ensure all the books on a topic are arranged within a couple of paces of one another, while spreading the books out along the entire row of shelving would mean that two books with the same shelfmark number might end up at opposite ends of the long row of shelving!
So, there is method to our madness, even if there is madness in our method.