Space to study today?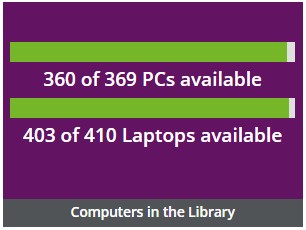 You've almost certainly spotted this by now but we've added a handy new tool to the library homepage that displays the number of available PCs and laptops. Drawn from near real-time usage data, this little display gives you a good idea of just how busy the library is at any particular time and might help you decide whether it is worth carrying in your own laptop or finding a library desktop or laptop to use or borrow, respectively. Not that you can't bring in your own devices – we even have a full desktop screen, mouse and keyboard combo you can plug your devices into for those that prefer to bring their own, as I described in my last post.
Just another way we are working to make library life a little easier.