What's on in the Library over the Summer
Summer is here, the weather is great (today!) and we all have a little more time to relax and take a break.
We will be open over the summer though, so pop in, say hi, and pick up some holiday fiction or take some time to explore the library whilst it is a quieter space. Here are our opening times for over the summer break.
Have you noticed our current displays? In the Library Atrium and on the Mezzanine floor we have culturally valuable presentations of photographs, books and text from and about the Roma, Gypsy and Traveller communities.
Near our Book Nook we also have our collaborative project with HSDC Textile students. Come in and see their wonderful creations inspired by our Near and Far World Book Collection.
Also, on the Mezzanine Floor we have Coronation Souvenir Programmes chosen from our Rare Books Collection – see how the Coronations in 1937 and 1953 were celebrated in Portsmouth.
Finally, back in the Atrium, Ebon and Bonnie, our work experience students from HSDC, have displayed Library books relating to their studies and interests. The display demonstrates the wonderful variety of books in our catalogue and how interesting and talented Ebon and Bonnie are.
Ebon, Bonnie and Tianni have been learning about the variety of work we do in the library to help you with your studies. Tianni eloquently presented at our Regional Networking event and shared her experience of working with the Near and Far collection to create a wonderful mixed media fish based on the stunning book The Little Black Fish by Iranian author Samad Behrangi.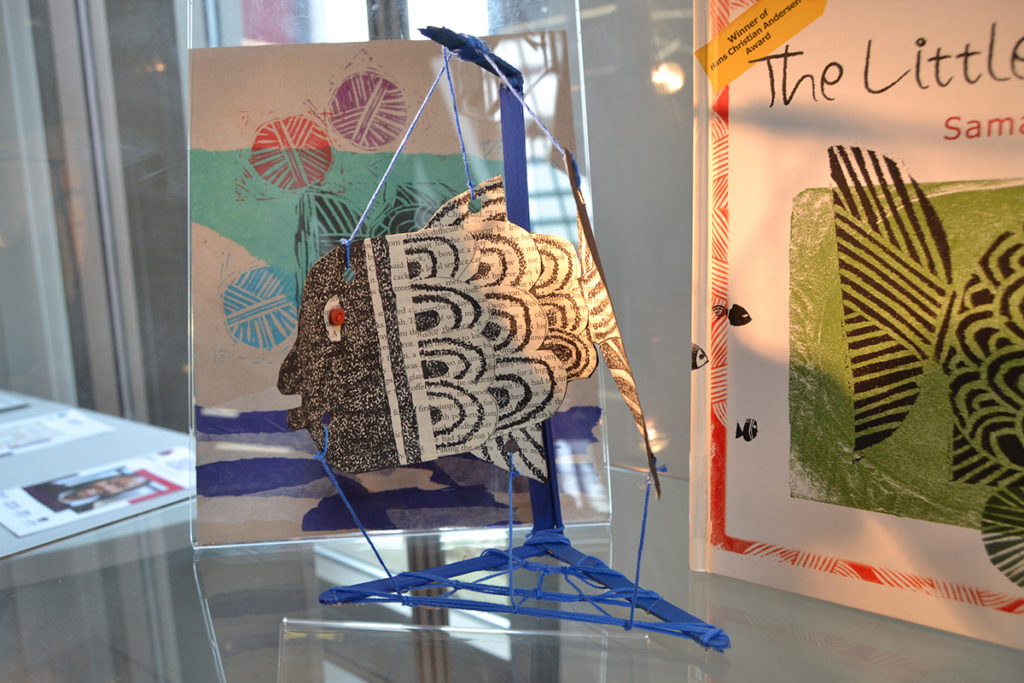 Have a great summer!