Where are my books?
Much of the time, you will be using reading lists and catalogue searches to find specific books. But what if you want to find books on a particular topic, or just want to browse all the books for your subject?
There are two easy ways to find books on a particular subject: searching the catalogue for a subject works well if the books are scattered across several different shelfmarks/locations in the library but for most subjects, you can use the subject locator on the library website to show you a floor plan of where all the books on a topic may be found. The subject finder is much more fun, so let's look at that first.
Finding broad subjects
Look under Using the Library > Book locations on the library website to find subject locator.
You can either browse by shelfmark using the expanding menu on the right side or search for a simple subject term, e.g. "sociology" or "culture" on the left. A floor plan will appear showing you where you can find books at that shelfmark on that subject or on that subject, respectively. It's a really easy way to find where your books are shelved.
<screenshot of finder and subsequent subject location img>
Finding specific books
If you want to find specific books or all the books on a particular topic, no matter where they might be shelved, search the library catalogue.
You can search for a subject, such as "botany" or "punk culture" and browse all the different books that are available, noting down the title and shelfmark of books you want to consult.
To find a specific book, search for the first few words of the title and the first author's surname, take a photo of the catalogue record for the book with your phone so you know the shelfmark number for the book, and then click on the "Locate on shelf" button to bring up a floor plan showing you precisely on which shelf you can find that specific book. This is a lot faster and easier than looking through everything on a broad subject!
Detailed walkthrough
Click on the big blue "Click here to search library resources" button on the library homepage and use the second search box on the next page to search the library catalogue. In this example, I have searched for "punk culture":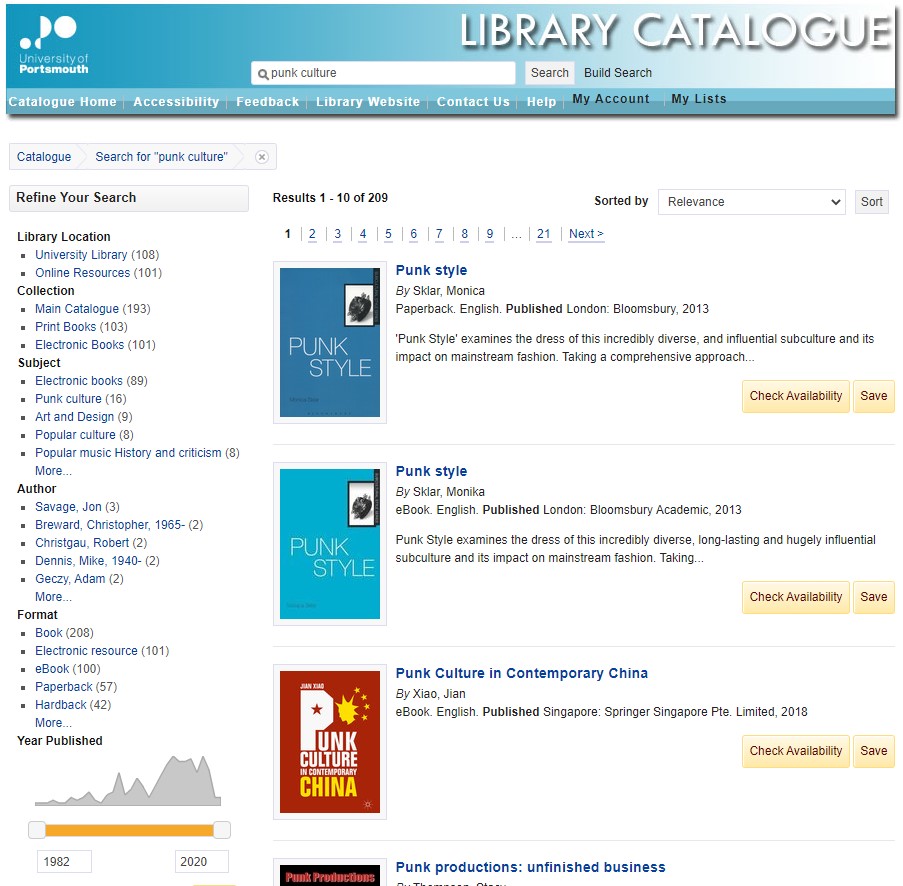 Click on a title or "Check availability" button to bring up a full catalogue record: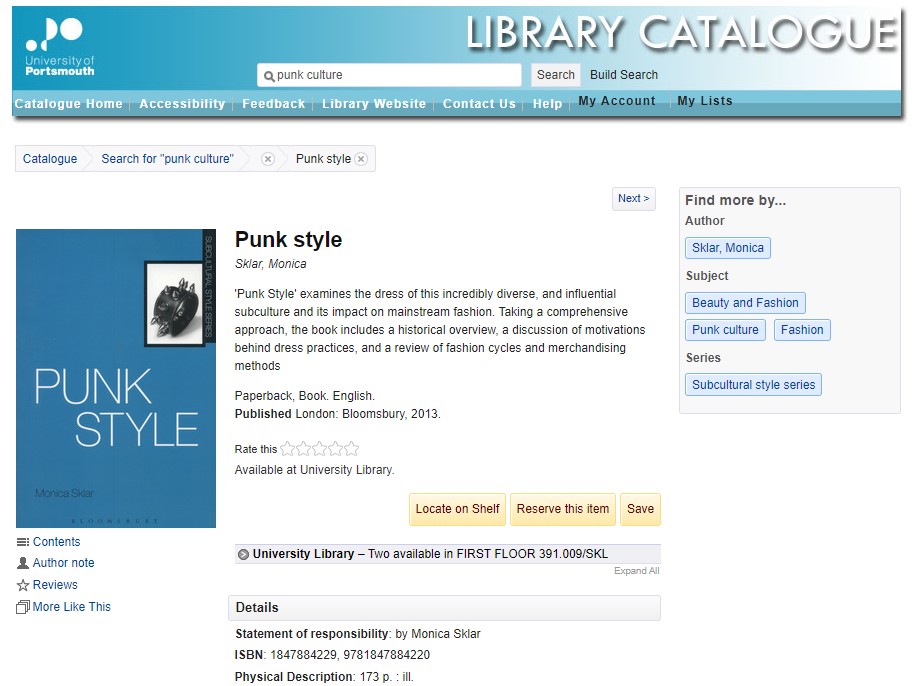 Take a photo of the catalogue record screen so that you have a record of the title and shelfmark. Be aware that the cover pictured here might not be the same as that of the book on the shelf and that books are sometimes reprinted at different times with different covers.
Finally, clicking on the "Locate on shelf" button in a book catalogue record will display a floor plan showing the floor and shelving block where the book can be found:
Finding your book on the shelves
Books are organised by a shelfmark number that identifies the subject they are about. Books at the same shelfmark number are on the same topic, and books next to them on either side are on related topics. Sub-topics are represented by adding digits to an existing shelfmark, producing longer numbers. Within each shelfmark number, books are arranged alphabetically by author.
Many people develop a strong distaste for numbers in school Maths classes, and are therefore repulsed by the sight of shelfmark numbers. Don't panic. You already know which shelving block to look along, now you just need to home in your book by matching the shelfmark with those on the shelved books digit by digit.
In the case of "Punk style" by Sklar, you would look for books with shelfmark numbers in the 390s, then the 391s, 391.00s, and finally with the exact shelfmark 391.009. The books with shelfmark 391.009 are then arranged alphabetically by the three letter suffix (usually the first three letters of the first named author's surname), in this case SKL. So you would look for the book(s) with shelfmark 391.009 SKL to finally pinpoint the book you want. All the editions of a book will be shelved together on the library shelves. There might still be a small number of books sharing the same shelfmark and three letter code, so always check which book you have picked up!
If in doubt, please ask a member of library staff for help. Doing anything for the first time can feel complicated, and books may sometimes be misplaced, missing, or in the process of being reserved for another client. As with everything, please don't suffer in silence!
Borrowing books: taking books away with you
You can borrow books by taking them to the self-service kiosks in the Atrium and following the on-screen instructions. These kiosks can be used to borrow and return books, and check what books you have on loan. You can currently borrow at least 30 books at once (ebooks do not count against this total). Click here to view current borrowing entitlements for different client groups.
This video shows how to find and borrow books using the library catalogue:
Need a hand?
If you would like someone to demonstrate how these tools work or you are having any difficulty finding something you need, including a book, please pop in and see the Duty Librarian in person during working hours or chat to us online 24/7.
Coming up next
In my next post, I will offering a more detailed masterclass in catalogue searching, explaining how to avoid common mistakes and find books like a pro.