Artistic cleaning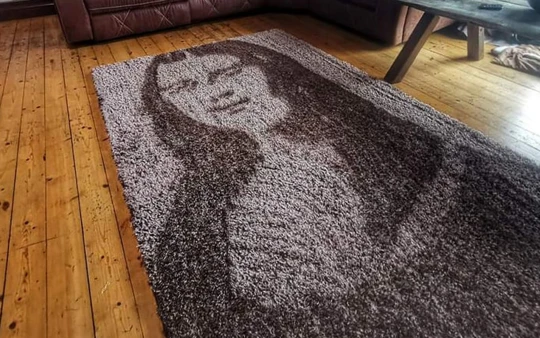 There's always been a lot of snobbery in the art world but truth be told, everyone is a capable artist – they just need to find their medium and something that lights the passion of creativity within them. Take Tom Quirk, who discovered his rug could be made to look either pale grey or dark grey depending on the direction in which it was vacuumed, like a giant Etch-A-Sketch pad with a vacuum cleaner attachment instead of two dials to draw with. It's quite amazing what he has managed to create in 20 minutes a day, even if his wife and dogs reportedly show a distinct lack of appreciation for his efforts.
Showcase your artistic talent in the Library
Whether you are a secret artist with a vacuum cleaner and a rug, a designer, social campaigner, miniature painter, photographer, or a scientist/engineer/mathematician with an eye for the aesthetics and beauty of your subject or just a talent for visual storytelling, we want to hear from you! We are always on the lookout for projects, artwork, photography, displays making a visual argument for a good cause to display on our first floor landing and/or glass cupboard in the Atrium. Both spaces enjoy heavy footfall and we promote all our displays on the library website and social media channels to help you get noticed.
Click here for details of our display spaces, including the dimensions of the available display units and an archive of images from past exhibits.
Get in touch if you would like to know more or have an idea for something you might like to display (with no obligation!).