We're listening
The library service is built on student led change. Everything we are has been shaped by a combination of keen observation and anticipation of student needs and feedback, suggestions and comments (and quite often complaints) from students. We really value all the feedback we get, but we really don't get as much as once we did. It is possible that we have become the victim of our own success and have successfully met all the basic expectations of the modern student (he types optimistically) or alternatively all our clients may now have given up trying to tell us where we are going wrong and walked away in disgust. It's hard to tell…
We have now addressed all the most serious concerns raised in the past, from providing an effective individual silent study zone, where doors prevent noise from elsewhere in the library penetrating this distraction free space, to providing enough study space for everyone to use. I still vividly remember the years gone by when we had students sat on the floor lining balcony walkways, all working feverishly hard without a desk to lean on or reliable wifi.
Through a combination of weeding old and unwanted book stock, installing more seating wherever we can safely fit it in and refurbishing the ground floor to create more flexible seating and repeatedly increasing the capacity of the wifi network, we were able to meet demand. Then the pandemic hit. The library still feels partly deserted, with students still living in a demi-lockdown mindset, having developed remote study habits and only visiting us when they are already on campus.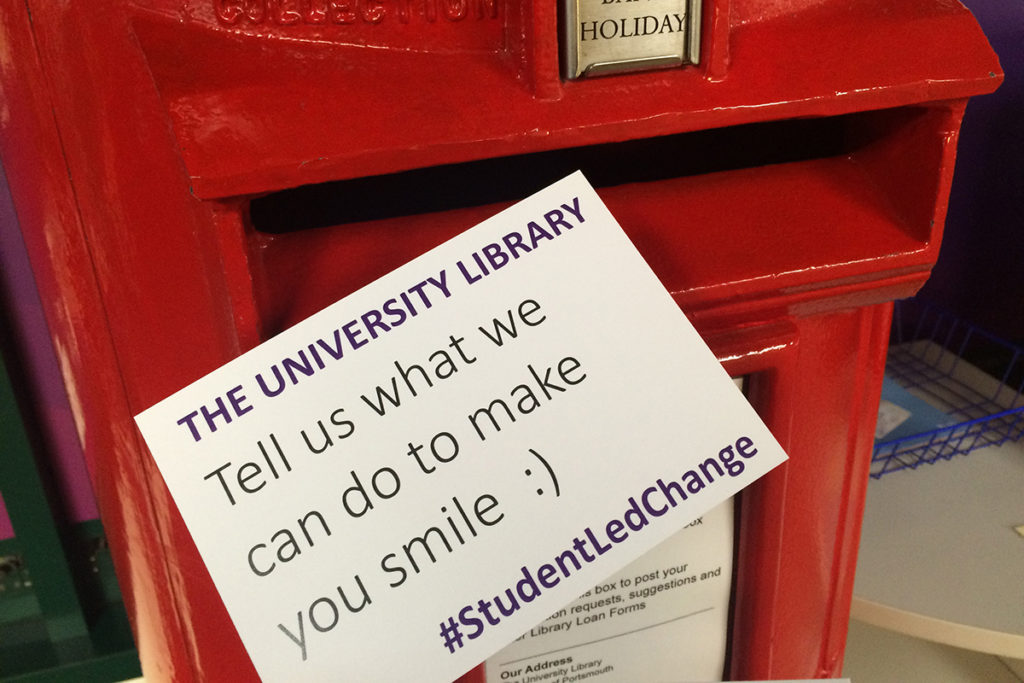 Back to the plot…
So, what I was about to say before I got lost in retelling the past, which reminds me of the time… [Get on with it! – Editor]
Ah, yes. We are missing your feedback, yet a trip to the Wellbeing Café on Wednesday revealed that many of you have really useful suggestions for and legitimate complaints about the library but have just never known how to tell us or had any confidence that we would listen and act on your concerns. I want to put that straight now. We respond to all comments and, wherever possible, we try to make everything better. It really pays to get in touch, and if you want to, you can do so anonymously through our online suggestion box.
Once a proud advertisement on the library homepage, the pandemic saw the online suggestion box relegated to a small link hidden in the website footer as other priority service took pride of place in our main screen real estate. That doesn't mean we stopped listening or responding, though! You can read about all the things we have done recently in response to client feedback on our Student Led Change webpage.
5 ways you can tell us what you want
Our Online Suggestion Box offers an (optionally) anonymous feedback system.
Email library@port.ac.uk your suggestions and comments and we will forward them to the responsible manager(s) for action and comment.
Suggest something in online chat.
Suggest something to our staff in person.
Write out your suggestion and post it into our suggestions post box. That red monstrosity beside the IT Help Desk on the ground floor isn't really a post box (although anything posted there will make its way into the Royal Mail via the University post room), it is our suggestions post box! If you tell your Library what you really, really want, and you've been a good student (or even a bad one), we will try to make your wishes come true. If you tell us your name and email address, we will even tell you how we intend to achieve it.