Short, printable APA referencing guides now available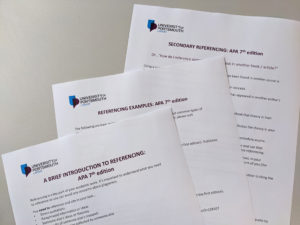 We're all aware of the need to be as environmentally friendly, accessible, and up to date as possible, but we also know that sometimes a printed guide can be a really useful thing.
We designed Referencing@Portsmouth to be an online resource, which is adaptable to reflect the types of sources and materials you really ask us how to reference. As new sources emerge, we add examples, and as some fall out of common use, we will retire the information. It's just one way we're working to support your learning.
However, there are some academic sources which are likely to be a key feature of most reference lists, and for those, there seems to be a demand for a short, printable, guide. To minimise the environmental impact, we have decided not to create piles of these in anticipation of their collection. Instead, we've uploaded three printable PDF files to the bottom of the APA menu; a brief introduction to the key concepts, a selection of reference examples, and a page on secondary referencing (which we are asked about all the time!). You can select whether to print one, two, or all three depending on your preference and need.
All users, whether staff or students, are welcome to use these. You can print them yourselves wherever you are based, but if you're a student in the library in need of one, we will keep a small number with the staff in the atrium and at the reception desk – just ask if you would like one.
If you're a member of staff who would like to use these with your students, please remember to let them know that this is a very condensed version of the guidance, and that much more is available on the Referencing@Portsmouth site itself.
As always, if you need help or advice about referencing, please ask our Duty Librarian, chat to us online, or email us and we will be happy to help.
These guides are only available for the APA 7th edition referencing style at the moment but we will monitor any demand for other styles.