Relax – it's only referencing
We have all been there. You reach the end of an assignment and breathe a sigh of relief, knowing that there is nothing more to do than complete the reference list. Several hours later, now looking like you are carrying coffee grounds in the bags under your bleary, bloodshot eyes, you are starting to wonder what kind of twisted madman dreamed up the referencing style you are using, and indeed what kinds of sadists the university employs who are making you use it.
Referencing often seems challenging at first but with a little foresight, methodical working, and extensive use of the library's referencing advice platform, Referencing@Portsmouth, it becomes a lot easier. You will also be relieved to learn that while everything is difficult the first time you do it, after a few assignments you will find that referencing formats become familiar, and that the process of referencing itself rapidly becomes formulaic, predictable, and finally quite boring. You will still come across odd cases where you are not sure what sort of resource you have used or how it is properly referenced and cited but that is what library staff are here for: chat to us online, pop in and ask the duty librarian in person or email us and we'll solve the problem for you. After all, you are only expected to show where you find your ideas and follow the conventions of a particular referencing style, not work out new referencing formats from first principles!
If you are looking for guidance on getting started with referencing, you could do worse than reading some of the notes on the basic principles of referencing and in-text citation given for your referencing style on Referencing@Portsmouth. If you still find the explanations incomprehensible, chat to a librarian in person or online and we will find a way to explain how referencing works in a way that will make sense to you.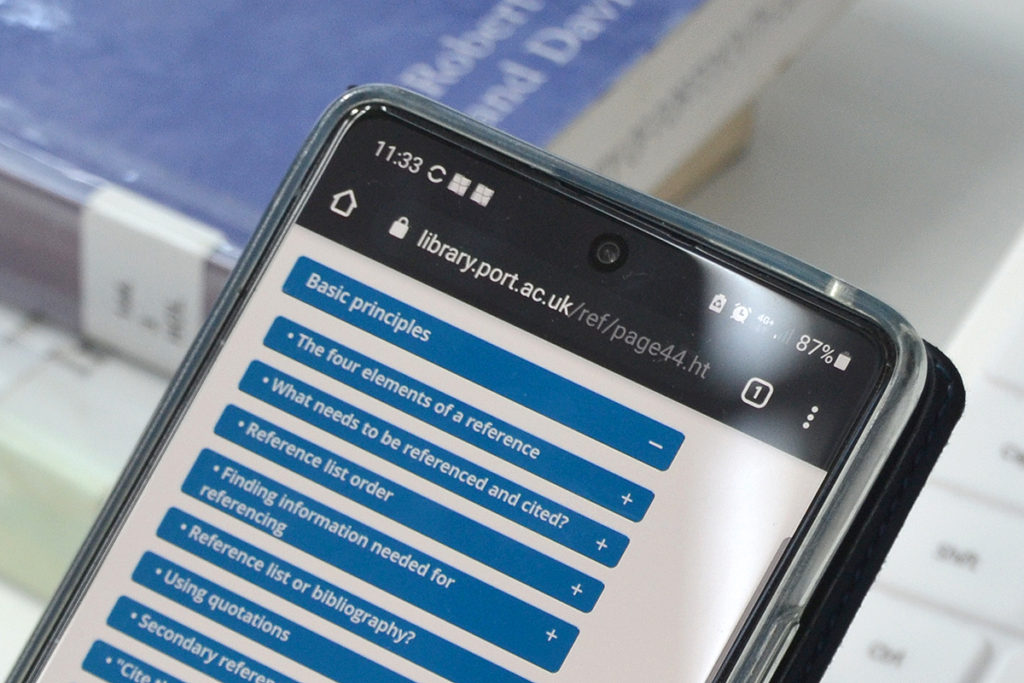 Citing and referencing (absolute) basics
Having praised the excellent guides already available on Referencing@Portsmouth, I will now attempt to offer the briefest possible potted practical introduction in an attempt to demystify both the principles and practice of referencing in the least scary way possible. Wish me luck!
If you take information from a source, it is good and necessary to show from where you found the information. This shows that you researched your topic and makes your own original contributions stand out.
In the text, you identify precisely wherever you have included information or evidence taken from an existing publication. This is called an "in-text citation". Citations are intended to let your readers know from which publication described more fully in the reference list this information was taken so they can go away, find it, and read it for themselves. Citation also often pinpoint the page or section and paragraph of the source publication from which the specific information you have used was taken.
What in-text citations look like
In Vancouver style, the in-text citation comprises only an endnote number; in Oscola a footnote number linked to a description of the source at the bottom of the page; and in APA 7th edition, the authors' names or start of the title, the publication year, and page number(s):
Vancouver, Oscola: … as was shown by Smith.1
APA 7th ed.: … as was shown by Smith (2017, p. 54).
Reference lists explained
Reference list formats vary by style but always comprise one or more lists giving the full details of all the sources you used. In APA 7th edition, all references are given in a single alphabetical list.
The easiest way to ensure you are getting the format for all your references correct is to look up the referencing examples for the each publication format you have used (academic journal article, ebook, YouTube video, etc.) on Referencing@Portsmouth, copy and paste the example that most closely matches what you have used from the website into your referencing list and then overtype it with your specific referencing information for each reference of that kind. Using this method, you have much less to worry about: you will not miss anything out and everything will be in the right order, with the right bits italicised, and with the correct punctuation.
You should still read the guidance and closely observe the way the examples have been formatted but this approach should get you 90% of the way to properly formatted references with very little effort.
Final tips
Record the details of all your sources, if only as a brief title/author note and the link/URL/web address for eresources as you carry out your research. You will almost always need to include a link to each resource in your reference list and you may well want to look at them again to check something. If you find yourself with 30-100 references at the end of a large project and have to try to find them all again based on title/author searches, you will at best end up frustrated and may even find some obscure websites are near impossible to track down again! Save yourself the hassle; record everything as you go.
You need to take particular care with EBSCO databases, including the Discovery Service. The long link at the top of the browser window that is displayed when you are looking at a record in the Discovery Service is a 'session ID', which means that it is a treacherous and false link that will break the moment you close your web browser. You need to click on the chain link icon on the right side of the screen (hovering your mouse cursor over this button should reveal a "Permalink" tool tip). Click on this button to reveal a new box near the top of the screen labelled "Permalink" displaying a much shorter link. Copy and paste this shorter permalink into your notes and use it in your reference lists and to share the resource with friends, librarians and lecturers.
As with all your assignments, keep your growing list of reference notes safe. Save the file regularly and back a copy up to your Google Drive.
Here to help
If you want to discuss any aspect of referencing or you want a gentle introduction to how referencing works, chat to us online (24/7) or pop in and chat to the duty librarian (during staffed hours).