Introducing the library's special collections
What makes something special?
Reaching for the Oxford English Dictionary, one promising definition it offers is:
"Distinctive in some way; distinguished from others of the kind by a particular quality or feature; particular, specific."

Oxford English Dictionary Online (n.d.)
From this, it may come as little surprise that in addition to our main collection of books and academic reading materials, we have a handful of "special collections" in the library that are kept separate and handled slightly differently for various reasons. These special collections include:
University Archive
Rare Books
Glass cupboard
Near and Far World Books @ UoP
Map Library
What follows is a whistle-stop tour of these collections and why you might want to use them.
University Archive
Materials chronicling the development of the University from before it was a Municipal Technical College, through its days as a polytechnic, through to the present day are lovingly curated and preserved here. Discover publications and meeting notes through the ages, physical artefacts and more, preserved and catalogued for posterity.
If you would like to use the Archive for your research or studies, you can find catalogues listing what is held in the Archive and email the University Archivist, Anna Delaney, to make an appointment to view the collection on the Library website. The Archivist is an expert in the archival collections and will be happy to help you find materials relevant to your research question.
Rare Books
From rare horticultural works to prints of William Blake's disturbingly profound artworks, the Rare Books collection houses all those texts that are too fragile or valuable to be displayed on the open shelves. Housed in a locked temperature and humidity controlled room, these works are included in the Library catalogue but are marked as part of the "Rare Books Collection" or the Bolton Collection – "BOLTON COLL (RESERVE STOCK)" – which was a collection of architectural books donated by architect and architectural historian Arthur T. Bolton.
You are welcome to view any of these books in the Library but they have to be viewed at a designated reference table during staffed hours. Please ask a member of library staff if you would like to view any rare books.
Teaching staff are welcome to borrow stock for teaching purposes, by prior arrangement with their Faculty Librarian.
Glass cupboard
If you have visited the library, you will have passed the glass cupboard collection on your right as you cross the Atrium. These books are available for you to borrow but are either fragile, of irregular design, are unusually delicate, or comprise separate parts and so are unsuitable for shelving with the main bookstock. This means they are often unusual, fun and design-related. They are included in the library catalogue and all have the shelving sequence "GLASS CUPBOARD".
If you would like to examine or borrow any of the glass cupboard books, please ask a member of library staff (this means the collection is only available during staffed hours).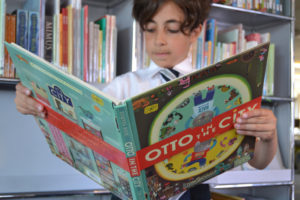 Near and Far World Books @ UoP
Near and Far World Books (NFWB@UoP) is a growing collection of bilingual, translated and non-English language children's books. It incorporates the prestigious collection Outside In World Children's Books in Translation. The collections are situated near the Library Café, on the ground floor, for easy access for all our visitors. We actively encourage the collections to be used to support research and teaching at the University of Portsmouth and in the wider academic world, and for community outreach work. These books are included in the library catalogue but you can also explore the collection on the Near and Far World Books website.
You are welcome to browse and borrow any of these books. Some books in the collection are housed in a locked glass cupboard in the Book Nook for the same reasons as the rest of the glass cupboard books. Please ask a member of library staff if you would like to read or borrow these.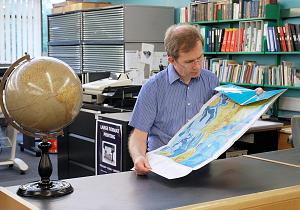 Map Library
The Map Library provides a comprehensive collection of geographic information, including maps, atlases and electronic resources, including the Digimap online map suite. The majority of the collection is reference only, although some maps, for example a complete set of folded OS Landranger and a growing number of OS Explorer maps and British Geological Survey maps, are available for loan. Most items in the collection are currently not listed on the library catalogue so, if you have any mapping requirements, just come along and ask the Map Library staff who will search the collection for you.
Click here to find out more and contact the Map Librarian, David Sherren, to make an appointment if you would like to make use of this fascinating collection.