For those in search of silence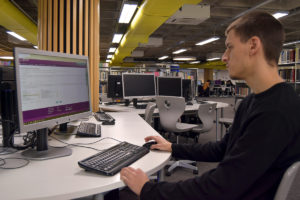 Everyone's tolerance for background noise varies widely and while we seek to control noise levels through sound absorbing surfaces, interior design, architecture, and regular Security Team patrols, some people still find that they are distracted while trying to study at peak times. Happily, there are many ways to find a quieter space to work, depending on whether you want to work alone or with others, at a desktop PC or with a borrowed laptop.
Follow our top tips for a quieter library experience
Firstly, check out the advice on our library website on choosing the quietest and least busy times to study, as well as tips and tricks to avoid busy spaces and how to get the most from the library if you prefer to study elsewhere.
Studying alone without distractions
If you really don't want to talk to anyone else, head for the Individual Silent Study zone on the second floor of the library, which is flanked by purple banners. This area is separated from the rest of the library by fire doors that arrest sound from elsewhere and is always the quietest area. No conversations (or phone calls) are permitted in these spaces, headphones must be used to listen to any recorded (from music to lecture recordings) at a volume where no audible sound escapes.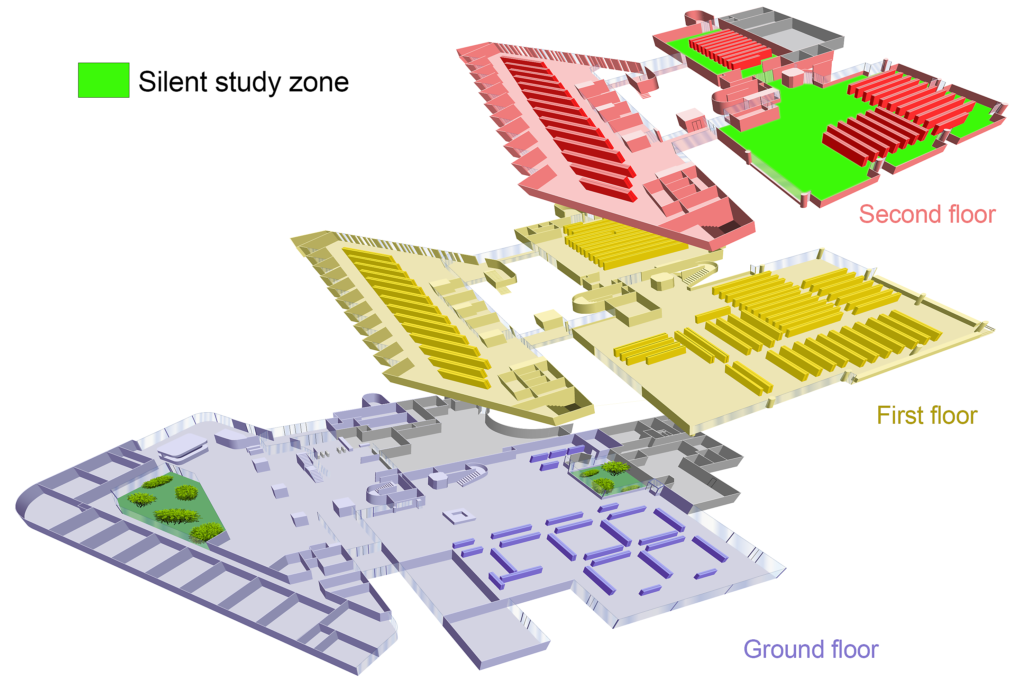 If you want to work on the ground floor or have occasional conversations with those around you, but still value near silence the rest of the time, you can request reusable sound-cancelling ear plugs from library staff in the Atrium. These allow you effectively to create your own temporary silent study zone wherever you sit.
Working with/alongside others
If you are happy to work alongside others (even if not actually with them), the drop-in meeting pods on the ground floor offer effective sound muffling, both preventing sound penetrating from outside the booth and sound inside the booth from escaping. These pods offer a quieter place to work than elsewhere on the ground floor. If you know you want to work with others, groups of two or more people can book the ground floor Meeting Room or the group study rooms on the upper floors, all of which are effectively soundproofed.
Report disruptive noisemakers
Lastly, if someone is making enough noise to disrupt your work, and particularly if anyone is vaping in the library or otherwise creating an unwanted distraction, please text our friendly Library Security team on 07860 756894 to discreetly report the offenders and their approximate location and someone will speak to them.