Finding library stuff
Once you have overcome your apprehension of visiting a library that is many times larger than the one in your old FE college, the next questions that cross most people's minds in some order are "How do I find the things on my reading lists", "Where are my books", and "How do I find quality journal articles for my assignments?".
Rest easy. We've got you.
Finding your reading list items
Almost everything on an online reading list will be available online. For these items, there should be a blue button link in your reading list that takes you from the reading list to the resource directly. If you are signed in using the VPN, you will often find you arrive at the full-text article straight away. Convenient, huh?
We designed reading lists to function this way, with eresources available to everyone at the same time that can be read from anywhere. Where possible, we often buy printed copies as well, although if a book is marked "recommended for purchase" it might well be that you need to buy a copy.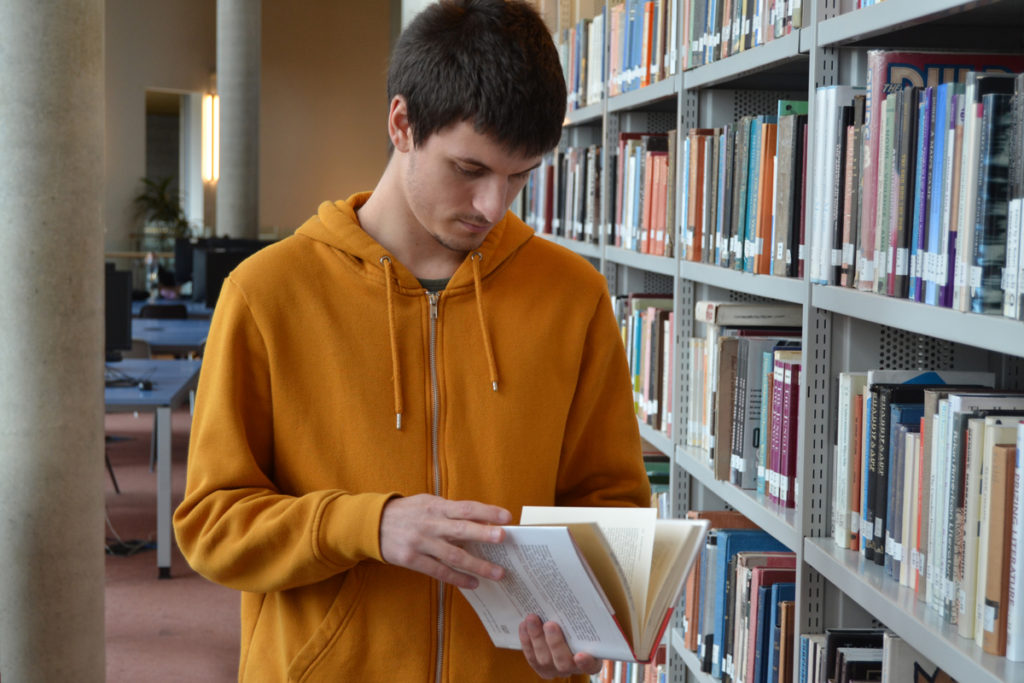 Saving money on those books you have to buy
Many books are available second hand from students offloading their copies from last year, and for some subjects the edition does not matter, so you may be able to save a small fortune buy buying second hand. Compare prices on Amazon Marketplace, AbeBooks, and the Library swap/sale board. You might even find something you need in the library Book Nook.
Where lecturers list a selection of books and tell you to buy one, it's worth waiting a few days and reading sections of the library copies of each alternative to compare the ways they are written and presented to see which you like best before spending your money.
Finding books
The easiest way to find books – electronic and printed – is to search the Library catalogue. Click the big blue "Click to search library resources" button at the top right of the Library homepage and choose the second search box down to search the catalogue. (The top search box searches the EBSCO Discovery Service, which searches the vast majority of our journal articles as well as the catalogue, but which returns a confusing number of results if you are just looking for a book or ebook.)
Enter a few of the more unusual words from the title and the first named author's surname and hit Enter. Click on the title in the results list – please note that different editions will appear as separate search result entries – and the record will show you both where to find the book and how many copies are available.
Reading ebooks online
Click the small (and easily missed) "Online access" link in any ebook record to go straight to the full text of the ebook.
Getting hold of printed books, pamphlets and DVDs
Find it yourself
If a book is currently available in the library, a yellow button will appear that offers to "Locate on shelf". Click this button to display a 3D floor plan of the library section containing the book with the area where it is supposed to be shelved highlighted. If you have difficulty finding a book, please ask a member of library staff for assistance. If you need to take a book home with you, take it to one of the self-service kiosks in the Atrium and follow the on-screen instructions. You must have your student card with you to borrow anything.
Click and collect
If you can wait a couple of days before picking books up from the library, you can request books be picked off the shelf, issued to you and left for you to collect on our reservation collection shelves using our Click & Collect service. Books are available for you to collect 24/7 during term-time.
Postal loans and scans
If you cannot reach the library for any reason, you can request books be posted to you. We can also scan individual chapters from books and articles from journals, provided we only hold that book or journal in print (that is, we do not have access to an electronic version). We can only send you a scan of one chapter from any particular book or one article from any issue of a journal under our copyright licences.
Finding journal articles
This will be the subject of another, later post. For now let's just say that for subjects other than Design and Law, the EBSCO Discovery Service is a great place to start. It behaves like an academic search engine, finding only quality academic content your lecturer's will want to see you using. For all subjects, your Subject page(s) are the best place to start looking for information for assignments – they list hand-picked resources perfect for your subject.
Using the EBSCO Discovery Service
Click on the big blue "Click to search library resources" button at the top right of the Library homepage and choose the second search box down to search the catalogue. Run a search as you would in Google, and then make sure you have selected ticked the "Full Text Online only" and "Peer-reviewed Journal Articles" on the left-hand side. You can narrow the date range using the date slider to remove older articles from your search or focus on a particular date range. Change the pull-down menu next to your search terms from "Keyword" to "Title" to narrow your search.
Exploring 'Advanced search'
Click on the "Advanced search" link under the search box to discover the more sophisticated tools that make it so much easier to find precisely what you want. The short introductory videos on our Discovery Service webpage demonstrate how to use the Discovery Service. It's often simpler than you think to put your finger on the information you need.
If you are one of the many students that want a helping hand getting started or you find yourself stuck with a particular search, chat to us online or pop in and say hello to the duty librarian.