Well, hello there!
Just joined the University or finally noticed that we live on social media? Greetings!
Over the next few weeks, I I will be introducing the most important library services you will want to know about, along with a few things that we really want you to know, so please set up notifications or stop by the Library blog for an overview of all my posts.
Take a virtual library tour
One of the things we have been asked for most often by new students is a virtual library tour that gives you a good idea of how to find your way around the library and what you will find where, so you know what to expect before you arrive in person. We are therefore pleased to present our virtual library tour.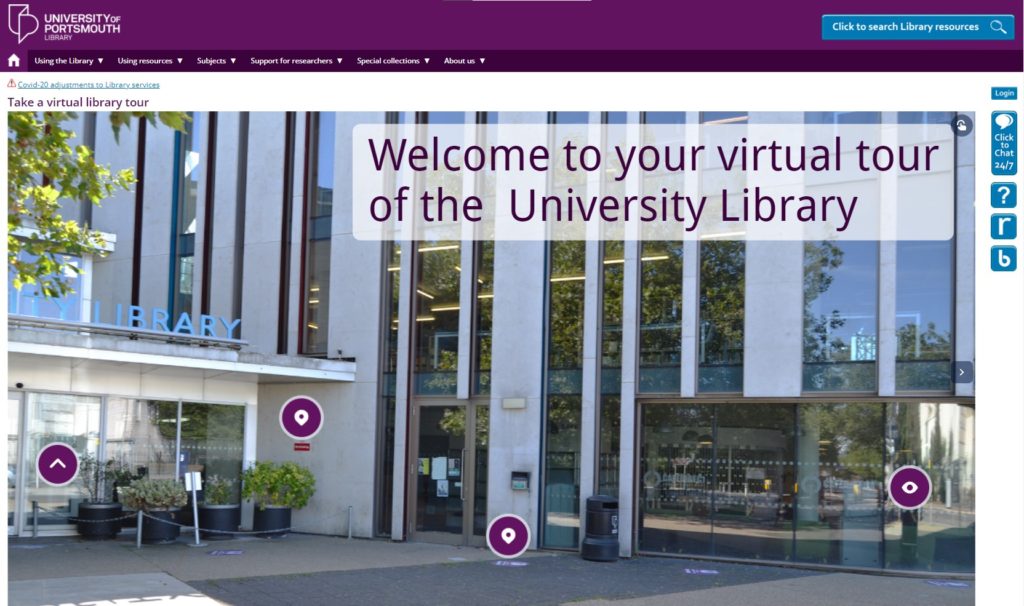 If you check under the Using the library > Welcome menu on the Library website, you will find more introductory resources that highlight the most important services when you are working on campus and at a distance, and a series of more detailed guides to specific services. Don't get overwhelmed trying to learn it all at once, just try to get an overview of what we offer – if you vaguely remember we offer a service, you can look up the specifics if and when you want to use it or ask us (in person or chat to us online) to check the details of how something works.
Unsafe, go back!
Yeah, about that pesky security warning that pops up whenever you try to visit the Library blog. The one that is about as inviting as coming across a door marked with a yellow cross to show the presence of the Black Death in the 14th century or an ageing wizard cracking the narrow stone bridge before you that already looked like it might not support your weight while bellowing, "You shall not pass!". It's the sort of warning that sends any sensible person running for the safety of the last webpage they were looking at, which is sad because the Library blog is safe to view, it is just running on an older version of WordPress that does not use secure html encoding and this upsets modern web browsers. Moving to the latest version of the blog platform would resolve this problem but the migration is challenging and the disruption caused by the coronavirus pandemic has heavily impacted the work of our web support team, so we are not sure when this will happen.
Workaround
In the meantime, if you click the "Advanced" link and then confirm you want to proceed, you will be able to get through to the blog without risk or further hindrance. If you have any questions or concerns, please chat to a friendly librarian online.