Christmas is coming, the seasonal display is already up!
Unsure what the world was going to be like over Christmas, with the Government making decidedly undecided noises about whether unnamed 'restrictions' would have to be put in place to protect the NHS, and therefore whether we would even be allowed to open, we decided not to erect a massive tree this year but instead found a tiny tabletop Christmas tree that we had all forgotten even existed and used it to curate a dinky little seasonal display in the Atrium for you to enjoy instead. The shredded scrap paper used to mimic snow is a lovely touch and reminds me how many creative talents we have working here.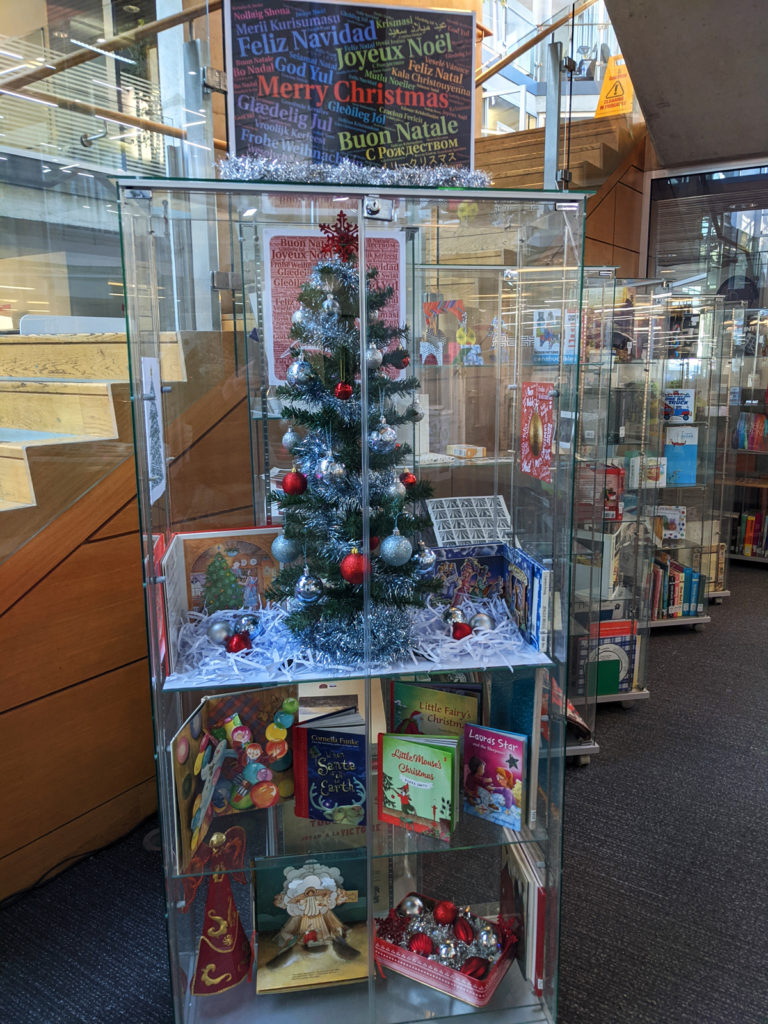 People have expressed concern about our habit of erecting a 10 ft (3 m) spruce fir in the Atrium in previous years but we can assure you it is sustainably sourced from a local grower, who apparently has a back garden large enough to grow a small forest of these trees each year for those who want them. The remains are recycled after Christmas – I think they are turned into some sort of mulch or soil covering. In any case, we are committed to minimising our carbon footprint, as I remind anyone who asks me when we are going to buy new tree decorations!
The Library at Christmas
We will be open over much off the holiday period, just not every day. You can find our Christmas opening times advertised on the Library Opening Hours webpage. Rest assured that from the start of next term (from 8 am on Monday 4 January 2022 onwards), we will be open again 24/7.
Our electronic resources and out of hours chat support team will also be here for you 24/7 all through the holiday period. We have never tested it, but we understand that there will be someone waiting to answer your questions even at 3 am on Christmas Day!
Rest and recovery is very important, though, so I would urge you to take a break over the holiday period and enjoy a change of pace and focus, if not surroundings. 'Tis the season to be merry, so relax in one another's company and enjoy a change of pace, so you can come back refreshed in the new year!