Free Online Training – BAAS Archive
Search 150 years of scientific discovery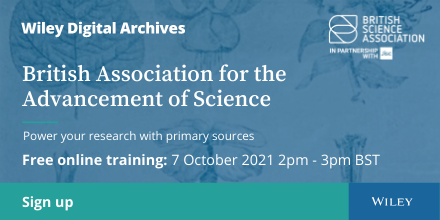 The University Library has perpetual access to the British Association for the Advancement of Science – Collections on the History of Science (1830s-1970s) digital archive thanks to an arrangement with Wiley Digital Archives in partnership with the British Science Association and Jisc.
Now Wiley are offering a free online training session to help you get the most from the BAAS Archive, and everyone is welcome!
Click here to register for the online training session.
Date: 7 Oct 2021
Time: 2-3 pm
About the BAAS Archive
The Archive of the British Association for the Advancement of Science (BAAS) and connected collections from UK universities covers agriculture, astronomy, biology, botany, chemistry, colonial and post-colonial studies, cultural studies, economics, engineering, geography, gender studies, history of science and STEM, industrial design, international relations, mathematics, meteorology, political science, physics, social science, technology, women and science, and government grants for scientific research. It contains administrative records, correspondence, illustrations, manuscripts, photographs, prototypes, clippings, personal papers, grey literature – all presented as fully searchable digital images that can be analysed, downloaded, manipulated, and compared with content from other societies and universities in the Wiley Digital Archives programme.
If you are interested in the subjects above or in digital humanities, use the session to learn more about:
Where to find content from your own institution
How to search and analyse results using the Analysis Hub
How to use advanced tools to export citations, tables, maps or translate text results
Plus a Q&A session