Sit back in front of the big screen this LGBTQ+ History Month
It's February, which means it's LGBTQ+ History Month – the time we help people to understand better what it is like for sexually and gender diverse people, to help correct misconceptions, and help people understand the lived experiences and particular needs of LGBTQ+ people. Rather than going on alarmingly about the ongoing discrimination and double-standards of lived existence in society (tales of plight and attempts at education to follow in later blog posts), I'm going to kick off this month by inviting you to the ever-exciting and thought-provoking LGBTQ+ Film Festival.
A collaboration between the LGBTQ+ staff network and Portsmouth Film Society (PFS) has is streaming a series of films online over the next few weeks. These films are free to the first 100 students and staff to sign up and just £3 for everyone else who wants to tune in – whether they are members of the university or not. Each film is followed by an open discussion forum where you are invited to share and discuss your thoughts and observations.
Help us promote the film festival!
Please share the details on social media, with friends, family and anyone at other universities who might be interested. Everyone is more than welcome!
This Saturday, 6 February at 7 pm
50 Years Legal (2018). Cert 15 Documentary / 77min
Watch it using this link
Watch for free using promo code 50years50 (This link only works on Saturday – sorry, I did't know this when originally posting!)
Remember – only the first 100 tickets are free, so sign up quick!
Post-film discussion
Saturday, 6 February, 8.15 – 9.30 pm
Drop in and discuss your reactions to the film, about everything from the cinematography to the thoughts and feelings it provoked at the post-film discussion on Zoom. I will be chairing each Zoom and trying to make it entertaining while giving all different reactions and discussions space to be heard (wish me luck!).
Drop in and chat on Zoom here. (You will need to register for a free Zoom account if you do not have one already.)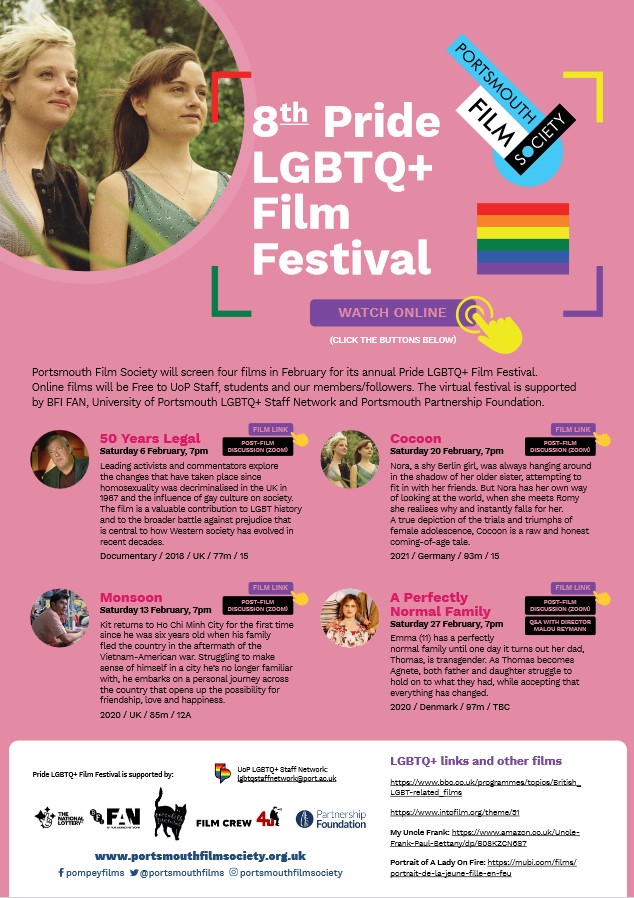 Future films later this month
Saturday 13 February – Monsoon
Saturday 20 February – Cocoon
Saturday 27 February – A perfectly normal family
Buy tickets to future showings here.
The viewing links and free ticket promotional codes for each film will be released a few days before each film.