Looking out for your mate: a guide for the concerned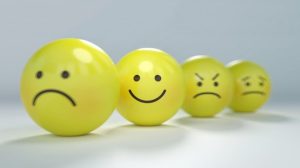 Starting a new year at university, the onset of winter and potentially gloomier weather, and the prospect of greater social restrictions are just a few things that can make people feel low at this time of year.  Helping a friend or family member when they are feeling low can be extremely challenging and there is no easy way to know what (or how much) to say.
What is clear is that when people are very low or distressed, having someone reach out to them and offer to listen was essential.  A large study of Canadians suffering from chronic pain and suicidal thoughts found that those with someone who provided "emotional security and well-being," had an 87% chance of going into remission from their suicidal thoughts, a rate far higher than among those who did not.  Support was found to be the biggest factor encouraging recovery from mental health problems. 
Tips for helping people who are feeling low
Check in with them regularly
Be positive, don't judge how they are coping, and don't suggest they get out more or socialise.  They may be struggling to cope to the point where even returning your call and invitation to hang out is beyond what they can manage, but knowing someone cares enough to get in touch lets them know they someone still cares about them.
Remind them of happier times
One idea is to start your conversation starter to be a happy memory and reminding them of their strengths and resilience.
Let them know you're here to help
Be specific (and realistic) about what you can do to help should they need you.  Offer to check in within a certain time frame and stick to this.  Consistency is important.
Let them know about the help and apps available
The University provides two apps to support your wellbeing:
WhatsUP helps a person monitor and reflect on their mood, express how they feel, and ask mental health experts questions in confidence;
Fika is a mental fitness app intended to support everyone to stay healthy and motivated during this period of extended social isolation.
Know when to refer – and when to get support yourself
If in doubt or if a person tells you they are unsure that they can cope and keep themselves safe, you should encourage them to contact their GP, who will be able to assess and support them.  You can also contact the University Wellbeing Service.  Out of hours, the Papyrus website offers help for anyone who is having suicidal thoughts or knows someone who may be.  Anyone can also call the Samaritans 24/7, who offer telephone and email support for anyone miserable or in distress.
The Wellbeing Service and Samaritans are also there to support you while you support your friends.  Supporting someone else is tough and if you are to be of any use to anyone else, you need to look after your own wellbeing first and foremost.
Last but not least
No-one should wait until they are feeling desperate before they reach out for help.  Mental wellbeing is an important part of your overall health and will be taken seriously.  There are many services here to support you and help you recover more quickly, and the earlier you seek help, the sooner you can start feeling better.
Thanks to ThriveGlobal for their original post pointing to much of the evidence used in this post.