Writing up a dissertation: four tips for success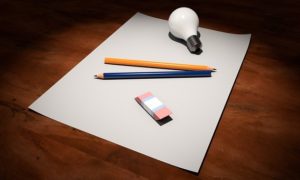 Writing up a dissertation can feel very different from writing a normal assignment because it is simply so much longer.  Happily, there are several tricks and tips to make this Herculean project more manageable.
Start with the end in mind
It is easy to get distracted, add in more and more objectives and things you would like to comment on or investigate, and end up losing the laser-like focus you had at the start of the project.  Since you only have time to complete one project, you need to focus in on what you set out to do and focus your efforts consistently towards that narrow goal.  I was once told that "there is no such thing as a PhD that is too narrow".  If that goes for a doctoral degree, it applies even more so to undergraduate and masters degree dissertations!
One step at a time
Focus on one thing at a time and work exclusively on it.  This means working out what needs to be done first and then blitzing it, rather than worrying about all the different parts of the project until they become a conjoined mess in your head.  Prioritise, divide and conquer!
Work out what goes where
Compartmentalisation is the secret to maintaining your sanity in the midst of strife, when you have too many things to think about.  Take everything to do with the project and put it in its own little mental box: literature review, methodology, and results.  Everything that you found out from the existing literature should probably appear in the literature review, your methods lead set up the results and remind you what analyses you were going to carry out to get meaningful and generalisable results.  The discussion then proceeds from interpreting the results in the light of the hypotheses you proposed and what you understood from the existing literature.  The discussion leads to conclusions and possibilities for future research.  As always, write the introduction last because it will summarise everything that comes afterwards, outling the problem being investigated in context, and foreshadowing the major findings and conclusions.
Learn from the experts
Your dissertation or project tutor and departmental academic support tutors will hopefully be of great help to you during your course but it really helps to learn from the experts who have gone out of their way to contribute books that explain how to go about a dissertation or specifically a literature review.
You can find a selection of ebooks on tackling a dissertation here.  More are available in print in the University Library, mostly shelved at shelfmark 808.02 (narrow side of the second floor, where the books are).
Please wear a face mask and follow the one-way system if you visit!