News flash for teaching and learning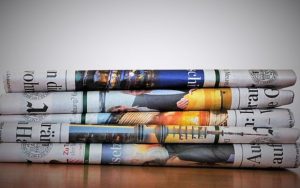 Not a lot of people know just how many news resources we have tucked away.  From archives of scanned newspaper pages from the 18th century to the present day and up-to-the-minute text-only collections for all major newspapers and magazines worldwide, we have broad coverage of broadsheets, tabloids all of which students can use in assignments and teaching staff can include in their teaching materials and reading lists.
Don't miss our latest subscription to Pressreader, providing facsimile format newspapers and magazines from around 70 countries, making keeping up to date with the latest global news, fashion and social commentary easy even during lockdown when printed magazines are less accessible.
Nexis UK: the global news roundup for current affairs
Nexis UK offers text-only access rather than scanned images of newspaper and magazine pages but what it lacks in detail it makes up for in breadth.  Anyone looking to keep up to date on current affairs or following news stories as they break through the worldwide mass media network need look no further than Nexis.  Covering all major news publications worldwide, some records going back as far back as the 1980s, Nexis offers a mixture of intuitive and powerful expert search tools including "headline", "major mention", and "mentioned 3 or more times" filters to help you find precisely what you want.  Its only limitations are a lack of scanned content and that it can only be accessed by students in the UK.
Searchable scanned news archives
We have fully searchable archives of scanned newspapers, both broadsheets and tabloids, many with OCR-transcribed text equivalents for each major article.  Some go back to the 1960s, others to the 1800s.  They are of interest to social science, history and journalism students, offering an invaluable historical record of changing fashion, culture, attitudes, language use and social trends over time.
Broadsheets
British Library Newspapers – scans of a wide range of national and regional newspapers from 1741-1950.
The Times: Digital Archive 1785-2014 – over 200 years of scanned articles.  You can view the article in its original page location for full context.
The Guardian and Observer Archives – scanned articles and photos from The Guardian (1821-2003) and The Observer (1791-2003).
Tabloids
Daily Mail Historical Archive, 1896-2004 – search this divisive and polemic tabloid or browse particular days' newspapers and special editions published in connection with Queen Victoria, George V, Elizabeth II's coronation and Winston Churchill.
UKPressonline – up to the minute scanned facsimile articles, including photos, from the Daily Express and Daily Mirror from the early 1900s to the present day, providing a tabloid's eye view of the modern world.
Channel 4 
Magazines galore
We don't just have newspapers but huge historical archives of influential magazines, chronicling everything from fanzines to feminism and fashion to film.  Most focus on the twentieth century but we have collections dating back to the 1800s.
19th Century UK Periodicals – a collection of digitised magazines covering the growth of readership, including magazines for women, children and leisure interests.
Vogue Archive – a complete searchable archive of American Vogue, from the first issue in 1892 to the current month. Every page, advertisement, cover and fold-out has been included. You can find images by garment type, designer and brand names.
Women's Wear Daily Archive – one of the fashion industry's most influential journals, coverage is from the first issue in 1910 to material less than a year old. Every page, article, advertisement and cover has been included and is fully searchable.
Media History Digital Library – digitised magazines from the early twentieth century, including fanzine Photoplay, global cinema magazines such as Pictures and Picturegoer, and collections relating to radio broadcasting, technical cinema and law.
More on media
BBC Monitoring tracks broadcast, press and social media across Europe, including breaking news, media behaviours and emerging trends. We also have global access to Fake News stories
House of Commons Parliamentary Papers 1688-2005
comprises one of the most detailed primary sources for the history of Britain and its former colonies, including Hansard from 1803.  More recent papers are available from the UK Parliament website.