Videos to add variety to your teaching and learning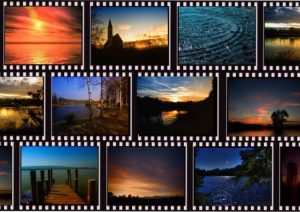 Are you looking to add some colour and variety to your teaching and online reading lists?  I recently shared some of the wonderful images, from VR architectural interiors to political cartoons available from our extensive image resource Artstor.  Today, I would like to introduce some of our best resources for sourcing video clips and short videos to add variety to your teaching and recommended viewing suitable for all subjects, from biochemical methods to televised jazz.
Kanopy
Kanopy is a video-streaming platform dedicated to thoughtful and thought-provoking films. Founded in 2008, Kanopy was established to provide academic institutions with essential films that foster learning and conversation. In 2016, Kanopy expanded its services to public libraries and now delivers a diverse collection of over 30,000 enriching films, available to stream anytime and anywhere, from desktop to TV to tablet. With an ideal platform for showcasing independent films that fuels lifelong learning, Kanopy are on a mission to ensure that everyone has access to enriching films that bridge cultural boundaries, spark discussion, and expand worldviews.
Here are just a couple of topical titles from the multitude on Kanopy:

Why can't I be me around you? – a story of a trans mechanic and drag racer

We'll never turn back – a documentary about an episode in US civil rights history
Box of Broadcasts (BoB)
BoB allows you to save live UK television programmes, search everything that has been requested and recorded by others and then clip the footage to use in teaching and learning resources on Moodle and other places behind the University firewall.  They are always busy creating more online resources for you, and now offer lesson ideas, BoB playlists and soon to come 'research resources'.
I have to mention one limitation of BoB – that apart from the BBC News channel BoB is only licensed for use within the UK.  Ordinarily not a problem but during the coronavirus lockdown, we should bear in mind that no-one abroad can view these videos.
Among the most recent additions are Dr Nicolas Pillai's (Birmingham City University) resource of jazz music on television since the 1960s. You can watch Dr Pillai introduce his resource in this special video here:
Videos for science
There is much excellent science demonstrated on YouTube – for example check out this example from the Periodic Videos channel:

The Library offers an excellent resource to supplement these called SpringerProtocols, comprising a comprehensive collection of reproducible laboratory protocols in the life and biomedical sciences, giving researchers step-by-step protocols for immediate use in the laboratory that are guaranteed to leave you with all your fingers intact.
Not only, but also…
We have many more video resources including film, sound and music collections for your creative use.  Check out these links to our other audio-video resources.