How can we do better?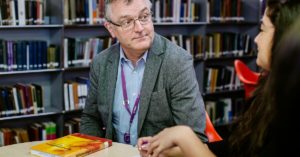 We firmly believe that while we should be anticipating and leading library service development, that our best source of inspiration has always been you – our clients.  You can see some of the most recent changes we have been able to make in response to feedback from students on our Student Led Change webpage.
More recently, we have been ringing the changes in order to support you while the Library building has been closed, making books our local and distance learning students would normally expect to borrow or be posted out to them available online.  At the same time, we have increased the number of online collections of journals and ebooks available online to support your studies and stepping up the level of support we provide online for both your wellbeing and remote access to information and referencing support.
But what else do you feel we should be doing to help you during this time of lockdown?  Let us know through our Online Suggestion Box.  We review these suggestions regularly and will get back to you soon to let you know what we are able to do.