23+ wellbeing things. No. 20 – Art self-therapy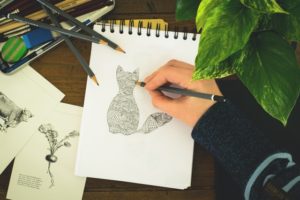 Like dance and writing, art expresses what is hidden in the mind through the movements of the body, and gives mindful expression to those feelings that are concealed in the body.  Getting creative can reduce stress levels and improve concentration, helping you to find your flow – that elusive but wondrous state where you are calmly focused and everything just gets done with a minimum of effort. 
If you find words get in the way, try drawing how you feel.  Media and colour are just tools to use or ignore.  You can achieve as much with a sheet of paper and pencil as you can a full set of oil paints.
From mindful colouring to creating mindful colouring yourselves, postcards, cards, collages, sketchbooks, and drawing in total darkness (or with your eyes closed), there are many techniques to choose between.  Here are just some ideas that require nothing more than a pencil, paper and perhaps a pair of scissors and a glue stick.  The links at the bottom will take you to blog posts that explore some of these techniques in more detail and describe slightly more advanced techniques for anyone with a set of watercolours handy!
Create a mandala
Mandalas are circular designs including (often concentric rings of) intricate designs, patterns and symbols.  This can help you process feelings and thoughts without engaging with them directly, from trials to triumphs.  The act of creation gives you ownership of the ideas and roots you in the moment.  Your mandala might be rich with inner meaning and a cryptic story or an assemblage of squiggles and shapes that make you feel happy.  There is no right or wrong way to create art and it doesn't have to look 'artistic', you simply have to have fun!
Make a postcard or greetings cards
You don't have to send them to anyone, although of course you could– they make great bedroom and fridge decorations!  If you are posting anything artistic, I recommend popping it in the best quality envelope you have to hand, just to make sure they arrive in the condition you sent them, regardless of rough handling or unexpected rain on the day they are delivered!
Create a collage
If you have a back catalogue of old magazines, newspapers or anything else, you can create a collage.  You can collage art you create yourself, and for the digitally creative, you can always use an online tool such as PicCollage instead.  PicCollage is a great way to learn if you think more in images and associations than words, and can make lecture notes and research easier and more fun.
Start a sketchbook
You don't need an expensive artist's book – any binder or notebook will do just fine.  Freely express yourself – represent your feelings, hopes, fears and relationships, what you are grateful for, what you look forward to, or just what comes up for you in the present moment – let it flow without criticism, judgement, regard for coherency or design or other ideals.  Jot down your doodles, designs, notes, cartoons, anything that comes up for you.
Draw in total darkness
Free yourself from the tyranny of you inner critic by turning out the lights and drawing whatever feels good to you in total darkness.  You might be surprised by what you end up with.
Going further
More about these techniques and more ideas for creative relaxation are available from VeryWellMind and the Huffington Post.