23+ wellbeing things. No. 6 – Low(er) tech diversions for one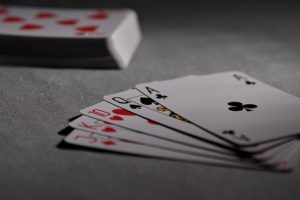 You can only sit for just so long at a computer before you want to get up and do something else.  Here are a few random sources of inspiration for entertaining yourself, with or without the aid of technology.
Low tech tips for living well alone from Mind
For those rare moments when all your friends are busy and you are trying to find ways to make yourself on your own, the charity Mind have come up with some common sense and some surprisingly mundane ideas for activities that will help you to live well in isolation.
Pen and paper games for one
Anyone can give their creativity a workout with these deceptively simple and low-tech pen and paper games for one.
The joy of patience
There are dozens of card games for one person, far more than the traditional triangular patience that comes bundled with Windows.  If you have a deck of playing cards lying around and no-one to play with, here are a few varied games to get you started.  These may well have online versions as well, for those who have never played cards in real life.
Don't forget your virtual public library
Grab an ebook or e-comic download from your local (and Portsmouth) public library and read for pleasure.  From Harry Potter to Judge Dredd and factual biographies to Ursula Le Guinn, there is something for everyone.
Enter the Harry Potter escape room
An American public library has created a Harry Potter styled escape room using Google Forms.  Essentially an old-school text-based choose your own adventure fantasy, it invites you to think laterally and creatively to solve the series of challenges and progress through the game.  Mobile friendly and requiring only Google Forms to be installed (free to download) on mobile devices, it is certain to pass the time for any would-be wizards out there.
Free online games for one
If you cannot stay away from your computer for long but don't want to splash out on new games, there are plenty of online games to play.