23+ wellbeing things. No. 5 – tune out and say "howdy" to the real world!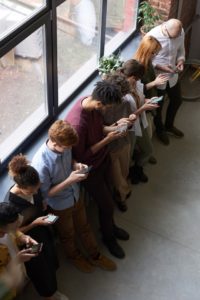 If fine-tuning what social media places in front of you does not improve your mood, it might be that you need to re-engage with the real world around you.  With the average person staring at social media feeds for a staggering two hours each day (and that's just the average, so many people will be screen watching a lot more), perhaps now might be a surprisingly good time to start limiting your social media screentime and engaging with people more directly and in real-time, playing games contacting friends and sharing hobbies.  You could even focus your mind by learning something new – perhaps something being taught on your degree course (naughty me! I mentioned study – *slaps own wrist*).  LinkedIn Learning has many more useful and interesting courses, not to mention free courses available from FutureLearn, EdX, Udemy and others.
Chatting to your mates online is a great alternative to reading their social media feeds – you get all the gossip but you also get to interact with other people in real-time.  Besides, your real friends are not going to mock your real-world problems in the way the internet at large might, and a problem safely shared is a problem halved.  Try Skype, Google Hangouts (available through your uni Google account for desktop/laptop PCs and as a free app for mobile devices), Zoom or FaceTime for Mac device users.
The Moment app helps coach you to spend less time on social media, while a Screen Time social media rationing feature built into iOS can help remind you when you have reached your pre-set limit for social media watching.