23+ wellbeing things for strange times #1 – Regain your background buzz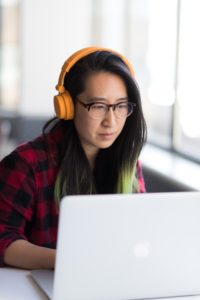 Some people thrive on the sound of silence, while others need the quiet energizing buzz of others around them working to remind them that they are not alone but part of a multitude all working towards similar ends and goals.  For many, going from a crowded library to an empty room can be particularly stressful.  There are two easy remedies to feeling out of routine:
The Library is still open and quite quiet, so you can self-isolate without being completely alone.
If you are missing the usual background buzz but find playing podcasts, YouTube videos and other such things too much of a distraction, you can now try streaming the sounds of study recorded in the Bodleian Library in Oxford.  You can listen to soundtracks from four different libraries around Oxford University using the pull-down menu.  Listen to others working around you at any volume you choose, only without having to restrict the desk area you can spread yourself over!