Study need not be a solo activity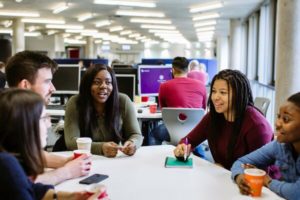 Do you work better with others?  Looking for a room to practice presentations, work together on something without outside distractions or huddle and compare notes?  You can book library group study rooms up to two weeks in advance or just drop in if a room is available.  All our group study rooms come complete with whiteboards and large screens or a projector available for you to use.  Borrow or connect your own laptop and work away.
These rooms are in heavy demand and so we cannot allow individuals to work in them alone, you must bring a friend!  Room sizes vary, comfortably accommodating between six and eleven people.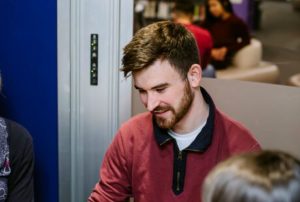 You can also huddle in a diner booth or dedicated drop-in huddle booths on the ground floor that are great for impromptu collaborations.  3rd Space next door in the Students' Union is also a great place for group study and relaxation.
If you do want to get away from other people, pick up a pair of reusable earplugs from the Library Help Deak then head to the top floor where you will find the Individual Silent Zone.