Locking down and opening up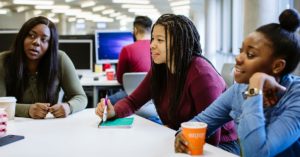 We appreciate that at the busiest times of the year, study space becomes something of a sought after commodity.  That's why, in addition to adding around a hundred new study spaces each year, we now close our doors to visitors and students from other institutions during the busiest times (20 April – 18 May 2020), so that our students have all the available space to themselves.
At the same time, we open up seminar rooms UL 0.25 and 0.26 to give you more space to expand into.  Remember that you can always break out into 3rd Space and book group study rooms in the Students' Union by visiting their Reception/Shop.