Have you visited China recently?
If you have returned from Wuhan in the last 14 days, the latest government advice is to:
stay indoors and avoid contact with other people as you would with other flu viruses
call the NHS 111 to inform them of your recent travel to the city
Anyone who has visited Wuhan has been asked to follow this advice for the 14 days immediately after return to the UK, even if they have no symptoms of the virus.
If you do develop flu-like symptoms, call the NHS 111 or contact your GP without delay.   Any affected students are being advised to contact international.student.adviser@port.ac.uk or call 023 9284 3524 as well, giving their name, student ID and course.  The University will then ensure that your department or school is advised accordingly.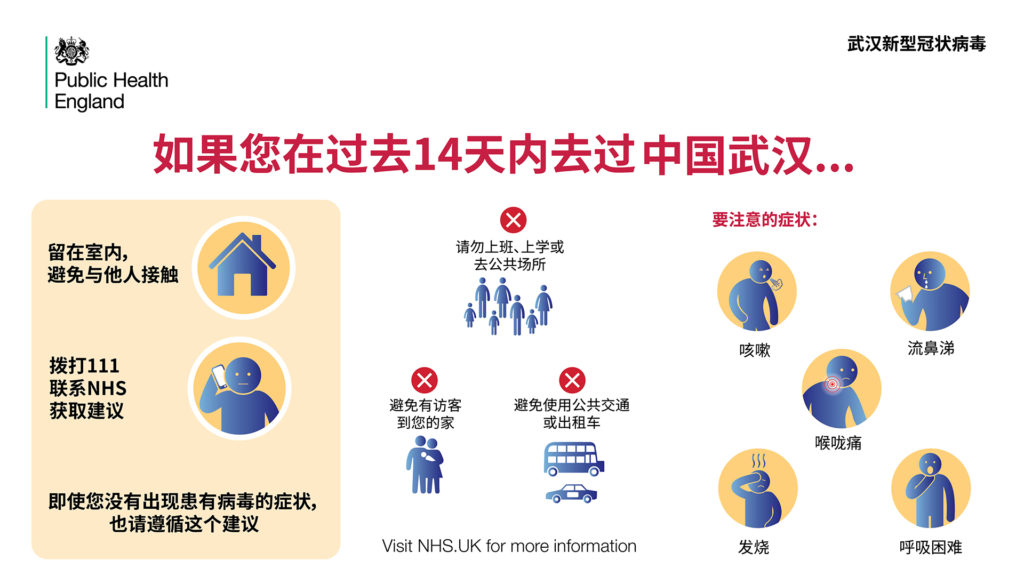 What this means in practice
The Government is asking people to take simple, common-sense steps to avoid close contact with other people as much as possible, like they would with other flu viruses.  This includes avoiding using public transport and taxis and visiting public spaces for 14 days after returning from Wuhan.
Where possible, you should avoid having visitors to your home, but it's ok for friends, family or delivery drivers to drop off food.
You can continue to study and research using all the Library eresources from home and setting up the VPN will make this even easier.  Library and IT help is available 24/7 via phone and online chat.
Further information and advice
Further guidance is available on the Government website.