(Re)introducing the Library Help Desk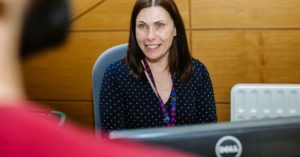 Did you know that the folk at the Library Help Desk include professional librarians who you can ask to help you find the best information available for your assignments, developing more powerful searches, choosing the best databases, and refining your searches?
Did you also know that these same Library Help Desk folk can explain referencing to you, check you understand how to reference things, and resolve even the trickiest of referencing conundrums in mere moments without you having to book an appointment?  You are welcome to book a referencing appointment but we can (and frequently do) handle almost everything referencing related at the main desk.  We can also help with referencing and other enquiries through online chat – ideal if you cannot get into an eresource or have a referencing question while at home.
Students sometimes seem to think the more they struggle the more they will learn.  University is never easy for most people, so taking advantage of all the support on offer to make things like finding and referencing information for your course just makes sense.  Getting expert help frees you up to focus on the important things, like reading and making sense of what you have found.  So don't be shy about asking for a helping hand – your friends have all probably done so already, even if they have never mentioned it!  We're here to help you get the best marks you can and to make finding and referencing information much more comfortable.
Remember – we're here to help.