Student led change (4) – supporting your wellbeing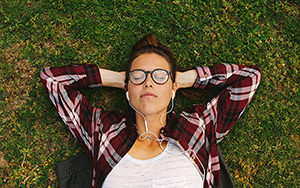 We have joined forces with other departments across the University and with the Students' Union to help identify and eliminate sources of avoidable stress wherever we could find them and offer more ways to help you recover perspective and recapture calm in the midst of everything. 
We open 24/7 during term-time, supported by year-round 24/7 online chat to allow you to work as and when suits you best.  We ended fines for overdue books while acting more swiftly to ensure books you reserve are brought back for you to use more quickly.  We redesigned our individual silent zones to help ensure you were not disturbed while trying to work without distractions. 
Since maintaining your calm can be a challenge for everyone at times, we reached out to Sports & Recreation to offer drop-in relaxation sessions each Thursday afternoon in the Library where you can learn how to chill and relax.