Can studying Business make you stupid?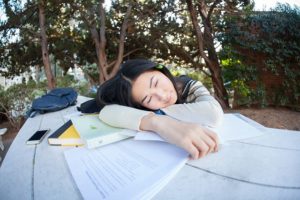 Well… according to one study, undergraduate Business students (emphatically not students at Portsmouth Business School!) were observed to be less able to think clearly after university a few weeks of university teaching than before.  It is suspected this was largely due to the all-night drinking sessions and longer-term sleep deprivation that plagues so many students.  Read more about the link between sleep and study performance in this Financial Times article (you might be asked to sign in if you are off-campus).
Business students often study the sustainability of businesses but overlook the sustainability of their own study habits.  Getting enough regular sleep seems to be a habit shared by the highest academic achievers, perhaps because it helps them to think clearly, do more and function better when they are awake.  This goes for anything you want to do: sleep is an active process of repair and rejuvenation for the brain and allows the mind to achieve greater clarity, join up ideas and understand what is important and what is extraneous without you consciously having to do anything.  Economists would call sleep a "free good" – and who doesn't like free, good things?
I am the worst at achieving a restful night, so here are some tips from the experts on getting enough Zs each and every night.  If you still can't sleep, your GP and the Wellbeing service are here to help.