The (first and) last word on referencing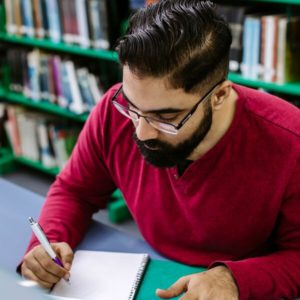 People recoil from referencing with good reason.  Obscure formatting conventions can make these simple notes on where you found information irritatingly time-consuming to produce but with a little know-how, referencing can be made simple.
Referencing@Portsmouth is the complete guide to University referencing.  Click on the 'r' button on the right-hand side of the Library website for bitesize referencing advice with examples showing how to cite and reference anything you have used in your work.  It covers all the main referencing systems of the University including the popular APA (6th ed.) system and the OSCOLA law referencing system.  From here, you can copy and paste examples to copy or overtype with the specific information for each of your references, saving you a lot of time and confusion.
Handy apps
Various reference management apps like Mendeley will even try to do your referencing for you, and often make quite a good job of it, although going through with a toothcomb and Referencing@Portsmouth to make sure is always recommended, if you have the time and patience.
A new booklet for the new academic year
There is also a new referencing guidance booklet for the APA system new this term, so if you prefer your guidance in print, please stop by and pick one up or download an accessible pdf copy.
Ask a librarian!
Library staff offer comprehensive advice for everyone on referencing.  While we cannot check everyone's references list(!) we are happy to explain referencing and citation, check that you understand how to reference different resources, and clear up any confusion.