Share and share alike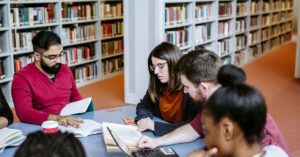 The library space, like the library collections, have to be shared between all our students.  We added 90 more study spaces this year alone and there really is is room for everyone, if everyone just takes their belongings with them when they take a break.  Please share and share alike!
Sharing study space fairly is just one of the things you, and all your fellow students, agreed to in the Library Charter.  
Not sure what's allowed?  Ask us 🙂
Staff will be happy to clarify the library regulations and what constitutes reasonable behaviour.  If you are unsure how long you can reasonably leave your things unattended, what you can eat and where, how much noise is too much, and so on, there is no shame in asking.  It will help us help you and save other students getting annoyed at you!